HUD's Office of Fair Housing Secures Appropriate Housing for Disabled Vet
While Edgar and Sandra Figueroa-Torres have given years of service to their country, it took a fair housing complaint to secure accessible military housing for them.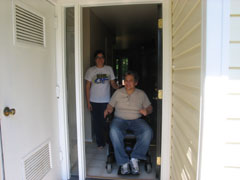 - Mr. Figueroa-Torres with his daughter, Aidaliz
Edgar Figueroa-Torres served forty years with the US Army. In February of 1990, in Landsthl Germany, while participating in a training exercise, Edgar fell. The 138 lbs. of equipment he was carrying caused a permanent, progressive, spinal injury.Today, Edgar can walk short distances with a cane, but chiefly relies upon a motorized wheelchair for mobility.
In 2008, Sandra Figueroa-Torres received a job offer from Walter Reed Army Hospital, in Washington, DC.The couple was excited for the opportunity but worried about moving from Georgia, where they had been living, to the high cost area surrounding Walter Reed. Edgar and Sandra, who met while serving in the Army, were pleased to learn that they could live on the grounds of Fort Meade through a new program that makes surplus housing on military bases available to civilian contractors and veterans. They faxed their paperwork to the private company contracted to manage the Army's housing stock and were told they qualified for housing within Fort Meade.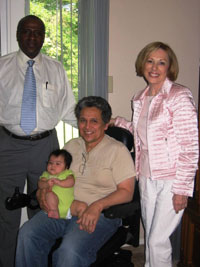 Mr. Figueroa-Torres is holding his grandson. To the left we see Curtis McMeekin, HUD Equal Opportunity Specialist. To the Right, Phyllis Weinstein, HUD investigator.
When Edgar and Sandra arrived in DC they were not able to view or assume possession of a house immediately and spent several weeks in a hotel. When their house was ready for occupancy, they were eager to get settled. But, as Sandra visited the house to which they had been assigned, she realized that her family had a new problem-the house was a two-story townhouse, with no bathroom on the first floor.
The couple immediately spoke to the Army officer who manages the contract for housing services about their difficulty. They agreed to move into the unit temporarily, but requested a transfer to a more accessible dwelling as soon as possible. Initially, they were told that nothing was available to them.
On October 16, 2008, Edgar and Sandra filed a fair housing complaint which was investigated by HUD's Office of Fair Housing in Baltimore.The complaint was conciliated when the Army's contractor agreed to allow the Figueroa-Torres family to relocate to a single-story townhome and to provide a curb cut and designated parking space, reserved just for Mr. Figueroa-Torres, out front. The family relocated in May of 2009.
Today, Edgar Figueroa-Torres has begun working toward a Masters Degree in health administration, enjoying the greater freedom he has to come and go easily from his dwelling. Sandra Figueroa-Torres says she can now concentrate on her demanding job at Walter Reed, without worrying about how her husband is managing.
When asked to describe the difference moving into appropriate housing has made, Mr. Figueroa-Torres said, "I don't feel denigrated and ashamed anymore. My self esteem and self respect have returned."