Maria Bynum
(215) 430-6622

For Release
Tuesday
April 14, 2009
---
JOHN E. HALL NAMED HUD FIELD OFFICE DIRECTOR FOR THE DISTRICT OF COLUMBIA
WASHINGTON - Housing and Urban Development Deputy Regional Director Brenda Laroche announced John E. Hall as the field office director for the U.S. Department of Housing and Urban Development District of Columbia office. In this capacity, Hall will oversee the coordination of HUD programs throughout the Washington, D.C. metropolitan area.
"John brings a wealth of experience to the position having worked in several different capacities at HUD and in both the public and private sectors," said Laroche. "He has the wherewithal to implement public policies and has a successful track record in identifying and assessing needs, setting priorities and achieving organizational goals."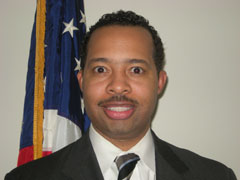 John E. Hall, HUD's Washington, DC Field Office Director
Prior to being named field office director, Hall served as financial transaction manager with HUD's Office of Affordable Housing Preservation. Before joining HUD, Hall was employed by two community development corporations in Texas. At South Fair CDC in Dallas, Texas, he served as the deputy director developing multi-family housing using tax credits and Section 202 programs. He left that position to start the North & East Lubbock CDC in Lubbock, Texas as the executive director. His accomplishments with this CDC included single-family housing development, housing counseling and economic development.
"His experience as a practitioner will prove invaluable in connecting HUD to its partners and its customers," said Laroche. "Having led a CDC, he will help grantees leverage available HUD programs to serve their objectives and to fulfill HUD's mission."
Hall has additional experience with Bank of America's Real Estate Banking Group in Dallas and Houston. He also served as Director of Non-Profit Development for the Upper Manhattan Empowerment Zone in New York, New York.
Hall received his Bachelor of Arts degree from the University of Michigan, and obtained a Master of Public Administration from Syracuse University's Maxwell School of Citizenship and Public Affairs.
###
HUD is the nation's housing agency committed to sustaining homeownership; creating affordable housing opportunities for low-income Americans; and supporting the homeless, elderly, people with disabilities and people living with AIDS. The Department also promotes economic and community development and enforces the nation's fair housing laws. More information about HUD and its programs is available on the Internet and espanol.hud.gov.