HUD No. 08-31-2011
Joseph J. Phillips
(678) 732-2943
For Release
Wednesday
August 31, 2011
---
HUD SOUTHEAST REGIONAL ADMINISTRATOR ED JENNINGS, JR. PARTICIPATES IN RUSHER STREET REDEVELOPMENT GROUND BREAKING AND IN RURAL GEORGIA LISTENING SESSION AS PART OF TOUR OF IMPROVEMENTS IN WASHINGTON, GEORGIA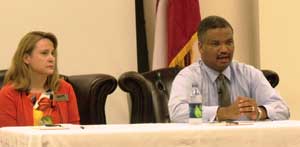 Listening session
ATLANTA - U.S. Housing and Urban Development Southeast Regional Administrator Ed Jennings, Jr., on Wednesday, August 31, 2011 participated in a major ground breaking ceremony at the Rusher Street Neighborhood redevelopment along with Brian Williamson, Georgia Deputy Commissioner, DCA, Cindy Frazier USDA-Rural Development, Anne Floyd CSRA Regional Development Center and Mayor Burns of Washington, Georgia and several other mayors and dignitaries from the adjoining area. A rural listening session was also conducted as Jennings fielded questions related to affordable housing concerns, redevelopment, homelessness and job creation as part of a tour of significant community improvements in Washington, Georgia.
The Rusher Street Redevelopment Project ground breaking ceremony recognized the initial construction of two single family houses with a goal of constructing nineteen more with support from $800,000 in HUD Community Development Block Grant funding which was provided through the Georgia Department of Community Affairs and which also leveraged locally another $800,000. The project included the demolition of dilapidated housing and proposed construction of new housing in an area historically known for needing new and sustainable affordable housing.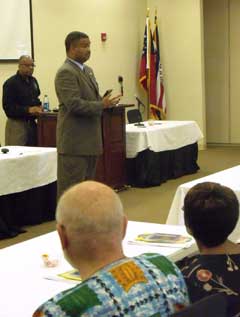 Grant writing training
"These improvements in and around Washington, Georgia clearly demonstrate the progress that can and is being made as we work closely with our rural, federal and state partners to innovatively and collaboratively win the future by making a difference in the quality of life of rural Georgians," said HUD Southeast Regional Administrator Ed Jennings, Jr. "Wills Memorial Hospital renovation, Rusher Street Neighborhood redevelopment and the subsequent listening session substantively demonstrate the progress and commitment we and our partners have to the citizens of rural Georgia."
"The City of Washington is pleased to host the visit of HUD's Southeastern Regional Administrator, Mr. Ed Jennings, Jr. and his staff; representatives from the GA Dept. of Community Affairs, USDA Rural Development and the CSRA Regional Commission. This platform gave community leaders and residents the opportunity to hear first hand; ask questions directly and also gain vital information and knowledge on grant funding procedures. These are challenging times in our cities and counties and we must work harder and be informed more about programs that will benefit our communities and the people that live in them," said Mayor Burns.
In addition to the ground breaking ceremony Jennings was able to observe firsthand at the Wills Memorial Hospital how HUD's mortgage loan insurance support was critical to the renovation of the 25-bed facility. The $12.7 million loan was made possible through HUD's FHA Section 242 Hospital Insurance Program and is making a significant difference to the quality of medical care of area residents.
Also close to 100 rural area leaders participated in a listening session with Jennings, Brian Williamson, Georgia Deputy Commissioner, DCA, Cindy Frazier USDA-Rural Development, Anne Floyd CSRA Regional Development Center and Mayor Burns of Washington, Georgia regarding questions about rural affordable housing, homelessness, redevelopment and job creation. Earlier in the day over 90 attendees participated in a major basic grant writing training conducted by HUD which provided insight to the grant submission process.
###
HUD's mission is to create strong, sustainable, inclusive communities and quality affordable homes for all. HUD is working to strengthen the housing market to bolster the economy and protect consumers; meet the need for quality affordable rental homes: utilize housing as a platform for improving quality of life; build inclusive and sustainable communities free from discrimination; and transform the way HUD does business. More information about HUD and its programs is available on the Internet at www.hud.gov and espanol.hud.gov. You can also follow HUD on Twitter at @HUDnews or on Facebook at www.facebook.com/HUD, or sign up for news alerts on HUD's News Listserv.