HUD No. 11-18
Joseph J. Phillips
(678) 732-2943
For Release
Thursday
December 1, 2016
---
HUD ANNOUNCES MICHAEL GERMAN AS GEORGIA'S FIELD OFFICE DIRECTOR
ATLANTA - U.S. Housing and Urban Development Southeast Regional Administrator Ed Jennings, Jr., announced the selection of Michael German to serve as HUD Field Office Director for the State of Georgia beginning November 28, 2016.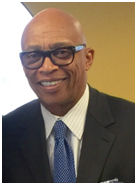 Michael German

As the State of Georgia Field Office Director, German will serve as HUD's liaison to mayors, city managers, county commissioners, elected representatives, state and local officials, congressional delegations, nonprofit groups, private entities, faith based groups, other stakeholders and individual Americans. He will be responsible for overseeing the delivery of HUD programs and services to communitiesand individuals, as well as, evaluating their efficiency and effectiveness.
"Michael returns to Georgia with a wealth of experience having served as the State of Alabama Field Office Director for over five years," said Jennings. "His return will enhance and accelerate the ongoing efforts and progress being made throughout the communities of Georgia."
"I look forward to working with our HUD partners in the State of Georgia to help make our communities stronger, more resilient and sustainable," said German.
German is also the Service to America Medals 2009 Citizen Services Medal Recipient in recognition for his significant contributions to the nation in activities related to ending homelessness. The prestigious Service to America Medals is presented annually by the nonprofit, nonpartisan Partnership for Public Service to celebrate excellence in federal civil service.
Prior to his selection as Georgia Field Office Director he served as the Alabama Field Office Director, Regional Team Leader for the United States Interagency Council on Homelessness and previously as District Manager to Georgia Congressman John Lewis; Director of the Office of Grants Development under City of Atlanta Mayor Maynard Jackson; Deputy Executive Director of the Atlanta Housing Authority and Disaster Coordinator with the Federal Emergency Management Agency.
Michael is a graduate of Alabama State University and is married with two children.
###
HUD's mission is to create strong, sustainable, inclusive communities and quality affordable homes for all. More information about HUD and its programs is available on the Internet at www.hud.gov and http://espanol.hud.gov.
You can also connect with HUD on social media and follow Secretary Castro on Twitter and Facebook or sign up for news alerts on HUD's Email List.