Many Helped by Destruction/
Construction of Nampa House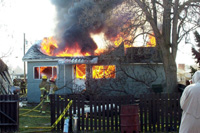 The destruction of the Nampa house enabled firefighters to hold realistic training exercises.
Neighbors cheered as the old house was destroyed via a controlled burn.
The newly constructed home in Nampa was purchased by a low-income family.
The destruction and subsequent construction of a house in Nampa was a great example of partnerships, neighborhood revitalization, and affordable housing.
Nampa Neighborhood Housing Services (NNHS) purchased a blighted home with HUD's Community Development Block Grant (CDBG) funds provided by the City of Nampa. The Nampa Urban Renewal Agency provided funds for the demolition of the structure and outbuildings.
The Nampa Fire Department then utilized the blighted home to conduct training exercises, including roof venting and search and rescue.
Upon completion of the demolition, NNHS contracted for the construction of a new single family home utilizing CDBG funds for the construction. The home was then sold to a low-income family.
The neighbors are very excited with the improvements the new home brings to the neighborhood and many cheered from their lawn chairs when the old home was destroyed.