The Housing Authority of Henderson Builds Green with Neighborhood Stabilization Program Funds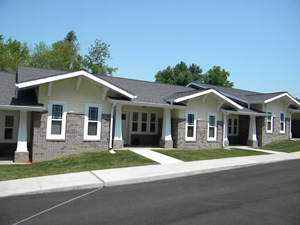 These six new energy-efficient apartments, built for the Housing Authority of Henderson, blend agreeably with the neighborhood.


The Housing Authority of Henderson, Kentucky recently opened Winters Place, a newly constructed multi-unit building, through the utilization of HUD Neighborhood Stabilization Program funds. These six newly constructed apartment units are pleasing to the eye and unique because of their features that make them energy-efficient. This can be attributed to the silver level Green Home certification that it earned from the National Association of Home Builders (NAHB).
Not only is this the first green building of its kind in the area, but it is also the first green design in which the architect and local builders of this project have been involved. The residents of the new units and the Housing Authority will continue to reap the benefits for years to come with reduced energy usage and virtually no reoccurring maintenance expenses.
The craftsmen Chicago-style bungalow apartments were designed to look like they were built during the era when home design and sense of place seemed to matter more. However, these units have features only available in modern day. They are spacious 1,000+ square feet units with 2-bedroom/2-bath designs complete with features that reduce the cost to live there. Some of the distinctive features include high efficiency heating and air conditioning units, Energy Star appliances, Energy Star windows, solar skylights, low chemical paint and flooring, as well as lifetime roofs and siding.
Making the choice to build green has not only positively impacted the Housing Authority residents, but also the community. However, it is the community that stands to gain even more. After going through the initial process and seeing the reaction of the community to Winters Place, they are now more inclined to continue to build more sustainably. Bobbi Jarrett, the Executive Director of the Housing Authority, has even pledged to seek a NAHB gold certification for their next planned project.
###