"Home Sweet Home"

George Smithers' home


"I absolutely love my house. You can't imagine the difference it has made for me and my two kids." George Smithers is a happy man. To save money from his government job, he and his two teenagers had moved in with his mom. She was willing, but didn't have a lot of room. George and the kids put their things in storage. "The storage unit was our closet. We'd put last week's clean clothes in the unit and take out next week's clothes to take over to mom's." At his mom's house, George's 15 year-old daughter shared her grandmother's room.
"I wanted a house for my kids. My family means everything to me. Now that we're under our own roof it's wonderful - especially for my daughter. She is so happy to have her own room with her own things in it. My son's doing great. He has his own room now. We're together. I am a happy man."
The neighborhood is benefitting from having the Smithers family move in. "They've been real welcoming. I just joined the neighborhood association and want to become active in it." The Smithers home is a three bedroom, two bath renovated home built in the 1920s in what was then a desirable upper middle class neighborhood. The neighborhood is now rebounding from setbacks in the intervening years. River City Housing (RCH), the CHDO that renovated George's house, has three other houses nearby also renovated using HOME and NSP funds. Another Louisville CHDO, REBOUND is working on other properties in the neighborhood. Buyers recognize these homes for their solid original construction, architectural detail and expansive front porches. RCH made updates for energy efficiency, and changed the floor plan somewhat to accommodate 21st century living. There's now a master suite which includes the new second bath, a more spacious kitchen and a new, sizeable deck off the back of the house.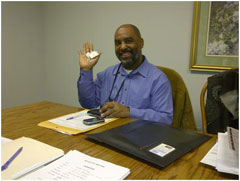 George Smithers


George was disappointed when the closing on his house couldn't be scheduled in time for the family to put their tree up and celebrate the holidays at the new address. "This coming Christmas? We've got a big one planned," he says, emphasizing the word big. "We're going to decorate. Really, really decorate. Put up the village. Light up inside and out. You gotta stop by!" he adds, beaming like all the lights he's ready to hang in December.
###