HUD Louisville Office Participates in World Habitat Day

Volunteers from the HUD Louisville Field Office work together to construct an exterior wall for a new Habitat home.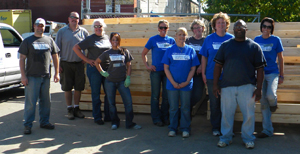 HUD volunteers pose in front of the walls that they constructed for World Habitat Day. Pictured from left to right include: David Railey (FPM), Jared Ison (PH), Janet Estey (MH), Sarah Andino (MH), Katherine Calloway (MH), Anne Roark (PH), Mary Mayrose (PH), Donna Dudgeon (MH), Milton Suggs (MH), Jessica Carlson (MH).

During the week of World Habitat Day, (www.unhabitat.org/categories.asp?catid=669) nearly a dozen HUD Louisville Field Office team members met early in the morning at the Habitat for Humanity of Louisville Headquarters. There they spent the day framing all of the exterior walls for a local two-story home being built to Energy Star standards for a single mother and her two children. The construction volunteers worked diligently to finish all the walls before the end of the day. This work effort put the house project ahead of schedule and exceeded the expectations of the Habitat for Humanity volunteer coordinators.
This is the second year in a row that employees from the HUD Louisville Field Office took part in World Habitat Day. Participation, as well as interest in the event, doubled this year and the enthusiasm at the worksite was evident. Not only did the effort help the family becoming new homeowners, it also helped to forge new relationships among the HUD employees from various program divisions. This is a great benefit to both HUD and its customers as an example of employees working together as "One HUD."
###