HUD and Louisville Real Estate Brokers Association Partner to End Discrimination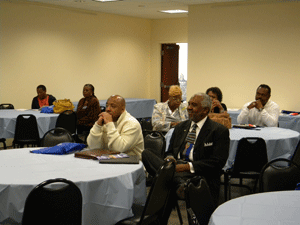 Brokers and stakeholders from the community attending workshop

On Thursday, April 19, 2012, to mark the 44th anniversary of the National Fair Housing Act, a partnership was formed between HUD and the Louisville Real Estate Brokers Association (LREBA) (http://www.nareb.com/view/forms/find_a_realtist_results.aspx?ChapterID=44&isByChapter=True), a chapter of the National Association of Real Estate Brokers. The partnership was entered into by Natasha Watson, HUD Louisville Office Fair Housing and Equal Opportunity (FHEO) Director, and William Starks, LREBA President, to ensure that everyone, regardless of race or color, will receive fair and equitable treatment when purchasing a home.
"Housing discrimination has no place in America and no one should be unlawfully denied the housing of their choice," said Natasha Watson. "The Fair Housing Month theme is 'Live Free: Creating Equal Opportunity in Every Community,' which reflects HUD's commitment to working with its fair housing partners to ensure that everyone who calls America home is able to live where they choose, free from discrimination."
"I am honored to represent LREBA on this special day as we enter into a partnership with HUD to educate our realtists and provide much needed information to minority homebuyers on their fair housing rights," said William Starks, LREBA President.
In attendance were various brokers and stakeholders from the community who attended the first workshop sponsored by the partnership, which provided information concerning fair housing rights and laws as well as information on Section 3 and the business opportunities that it can bring.
The partnership between HUD and LREBA will help end discrimination by informing consumers in African American and other minority communities and public and private industry members about their fair housing rights and responsibilities under the Fair Housing Act. The announcement comes during the 44th anniversary of the passing of the National Fair Housing Act, which is commemorated by HUD and its partners each April.
###