Historic School Building is Transformed into Energy-Efficient Housing and Community Services for Young and Old in Lexington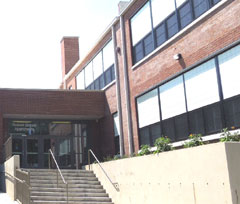 Russell School Apartments in Lexington

Russell Elementary School was once the centerpiece of its neighborhood. However, in 2003 dwindling enrollment and the need for costly repairs shut down the place where children once came to begin their education. Not so now. Russell School Apartments in Lexington is now a mixed-used, energy-efficient property that serves the young and old through 27 very low-income senior housing apartments and a Head Start/Early Head Start child development center.
The $6.5 million project used a unique financial package that included HUD Housing for the Elderly (Section 202) funds, Historic and Low-Income Housing Tax Credits, and Lexington HUD HOME funds to transform the dilapidated old school into the wonderful community resource it is now.
The historic building, which originally opened in 1954, was redesigned to maintain as many of the original architectural features as possible, including the windows, hardwood flooring, lockers, and even murals that were painted decades ago. New features include remote-controlled heating and air conditioning, elevators, and skylights in some rooms that needed additional natural light. The many energy-efficient improvements include:
Increased insulation in the exterior walls
Increased insulation in the ceilings
Quick recovery hot water heaters
High performance ENERGY STAR Windows
ENERGY STAR Refrigerators
ENERGY STAR HVAC
ENERGY STAR air handling units (split systems in living units)
Programmable thermostats
Low flow faucets
Green label carpets
Motion sensors
Skylights (dimmable)
Compact fluorescent lighting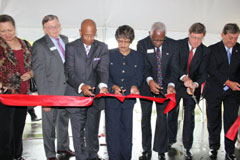 Russell Apartments Ribbon Cutting Ceremony

The award winning project was recognized by the Lexington Historic Society with its annual Adaptive Use Award. Former teachers, community leaders, and citizens were amazed as they roamed the hallways, living spaces, and common areas during the grand opening ceremony and they reminisced about their fond memories of the school.
On top of the beauty of the building, the mixed-use property brings much needed affordable housing to the community. Residents will pay no more than 30 percent of their income toward their housing expenses. These low rents are made possible by HUD's agreement to provide Project Rental Assistance to supplement the rental income provided by the residents.
###