Energy-Efficient Homes "Pay Back" Homeowners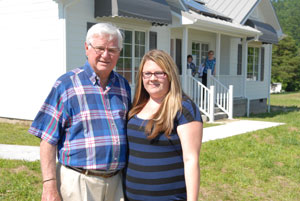 Congressman Hal Rogers from the 5th District and Near Zero Energy Homeowner Linda Sawyers Cox stand in front of a Near Zero Energy Home

In rural Emlyn, Kentucky the HUD Rural Housing Economic Development grant along with HUD Community Development Block Grant - Recovery Act funding, is making its mark as the first near zero energy-efficient five unit subdivision of its kind in the state is completed. Kentucky Highlands Investment Corporation (KHIC) (http://www.khic.org/) along with approximately three dozen partners began planning this project in 2009. Today the homes are being occupied by low-income families and, because of the extremely energy-efficient features of the homes, the families now have the financial freedom to use the funds they once spent on utility expenses for other needs.
"The homes in this development have integrated some of the best building materials, technologies, and methods gleaned from leading research institutions to achieve long-term sustainability," said KHIC's President & CEO Jerry Rickett. He added, "Additionally, these designs and innovations can be shared with other affordable housing developers across the country." Each home is extremely air tight and well-insulated, and has solar panels which will generate electricity that supply the local power grid. Because of this technology, homeowners can expect to receive payments from the power company each year. As a matter of fact, one family was just credited $88.36 on its first full month's utility bill.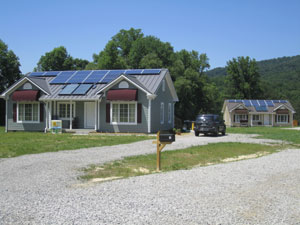 Pictures of Two Near Zero Energy Homes

"HUD is a proud partner in seeing this innovative development come to pass," said Kentucky Field Office Director Krista Mills. "We are particularly pleased to see energy cost savings and income generated for the families living in the homes."
KHIC hopes that the homes will be the first in Kentucky to be certified as meeting the Passive House standard, which is an extremely aggressive residential energy-efficiency standard. Tom Manning-Beavin, KHIC's Director of Housing, explained, "We will be gathering data on the energy savings that these homes create. We hope that this project, and projects like it, can help move the market toward valuing energy efficiency by recognizing that additional investment in construction will be repaid several times in energy savings over the life of the home."
###