Kentucky Works to End Veteran Homelessness by Close of 2015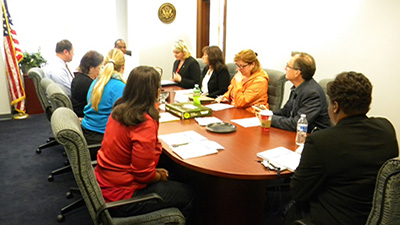 Photo: At the head of the table is HUD Kentucky Field Office Director Christopher Taylor, followed on the right by Stacie Sutton of Kentucky Housing Corporation (KHC), Vickie Dalton of KHC, Sonja Redmon of HUD, Patrick McKiernan of the Kentucky Department of Veterans Affairs, Barbara Finch of HUD, Angelique David of HUD, Deborah Knight of HUD, Carol Spencer of HUD, and David Railey of HUD.

By: Deborah Knight

Currently, over 60 Kentucky elected officials have joined the Mayors Challenge to End Veteran Homelessness in 2015 and more are expected to enlist in this initiative. This state-wide achievement in terms of the total number of elected officials committing to end veteran homelessness by 2015 currently leads the nation. This accomplishment and the increasing support for this effort by elected officials is attributable to the growing acknowledgment and commitment that recognizes the importance of ending veteran homelessness and to the true cross-collaborative spirit of the HUD Kentucky Field Office that includes the following program areas: Field Policy and Management; Community Planning and Development; Public and Indian Housing, Multifamily Housing, and Fair Housing and Equal Opportunity and the efforts of the Kentucky Housing Corporation (KHC) and Kentucky Department of Veterans Affairs.
To support the challenge, HUD Kentucky Office officials met with partners in Kentucky to brainstorm about creative ways to ensure that enough housing resources are available for the number of homeless veterans in the state. A topic was also making sure that the areas with the highest veteran homeless count are being targeted.
Kentucky Housing Corporation (KHC), which serves 87 of 120 Kentucky counties with Housing Choice Vouchers, and the Kentucky Department of Veterans Affairs were present as well as HUD program area staff. HUD will promote the use of all available vouchers for homeless veterans as well as encourage public housing authorities and multifamily housing to include a preference for homeless veterans in their tenant selection plans.
The HUD Kentucky Office has partnered with KHC and plans to announce a new program that will provide additional housing resources for homeless veterans in December 2014.
The 2014 point-in-time homeless count revealed 579 homeless veterans throughout the state in January 2014 and the Homeless Management Information System (HMIS) showed that 979 homeless veterans were served by HUD homeless agencies from May 1 to November 17, 2014. Kentucky HUD staff has worked with Policy Development & Research to map the location of the homeless veterans and will provide particular attention to those areas.
###