HUD Kentucky Office assists in new Lexington Redevelopment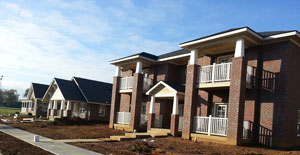 Beautiful new homes replace those impacted by the redevelopment. Displaced residents will have first chance at renting the homes.


Partners of the Newtown Pike redevelopment gather to cut the ribbon on one of the new apartment complexes

A ribbon-cutting was recently held for the Davis Park View development, a new neighborhood of 14 apartments and homes. The development is for the former residents of Davis Bottom in Lexington, Kentucky who were displaced as a result of the Newtown Pike extension transportation project.
HUD provided $627,000 in HUD HOME funds for construction of rental units and other costs. HUD Kentucky staff members were also active in the working group that provided technical assistance on the project.
The original concept of extending Newtown Pike was conceived nearly 40 years ago as a way to give drivers another way to get from the north side of the city to major thoroughfares on the south side without having to go through downtown. This was accomplished through the Kentucky Transportation Cabinet (http://transportation.ky.gov/Pages/default.aspx), which acquired 52 parcels of land in a 1.2 mile stretch, most of which was an abandoned railroad bed.
###