Recognizing How HUD Work Matters in Kentucky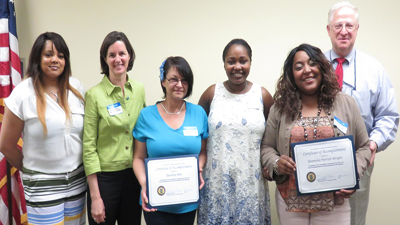 Nichole Leachman, Louisville Urban League, Becky Roehrig, River City Housing, Daniella Mey, new homeowner, Angel Russell, Saint Vincent de Paul (SVDP), Shameka Parrish-Wright, SVDP permanent housing participant, and Robert Kuhnle, HUD Kentucky Acting Field Office Director.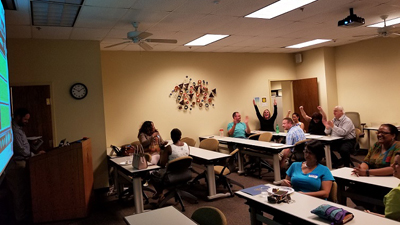 HUD Family Feud in Kentucky gave staff, program participant speakers, and agency representatives the opportunity to enjoy some comradery and friendly competition.
The HUD Kentucky Office Public Service Recognition Week Event, which recently featured two very special HUD program participants, was a huge success with employees leaving feeling both moved and appreciated. Two very inspiring ladies spoke about how HUD programs helped them overcome barriers so that they could obtain permanent housing and, most important, keep their families together.
Shameka Parrish-Wright, Saint Vincent de Paul (SVDP) Homes for Hope (https://www.svdplou.org/wp-content/uploads/2013/03/2013_SVDP_Housing_Application.pdf) participant, explained that the cycle of poverty instilled in her family for generations had left her and her children homeless countless times, despite her being an active community member and a one-time human rights director. "There was no aunt or uncle or other family for me to go to for help," she explained. "I was from an entire family of poverty and I did not want to ask any of my friends to take on myself and six children and I went to homeless shelters." So when SVDP enrolled her in a program where she could finally get permanent housing and have a safety net of support she was elated and confused. "You see I hadn't known what permanent anything was in my life. So, this has been the best thing that has happened to me and the work that you do matters," she told the HUD staff.
Next, Daniella Mey shared how she had become a first-time homebuyer just 2 days prior to the event! Living in public housing, she found the Louisville Urban League (https://lul.org/), a HUD-approved Housing Counseling Agency, that helped her to qualify for the Section 8 Homeownership program (www.lmha1.org/special_programs/
section_8_homeownership_program.php). She also worked with River City Housing (https://www.rivercityhousing.org/welcome-1.html), a Community Housing Development Organization that uses HUD HOME funding, who completely rehabilitated her home, giving her the freedom to pick out many of the amenities. She was overjoyed and so grateful that HUD had programs to help her not only buy a home in a quiet location, but reunited her with her children so that they could become a family once again.
Following the stories, the speakers and agency representatives joined HUD staff for a friendly game of HUD Family Feud. Sarah Andino, HUD Public Housing Program Analyst, later said, "I just wanted to say thanks to those that helped plan the event for yesterday. It's always great to be able to get away from our desks and have some fun, but the guest speakers made the event special. Too often we sit in our cubicles doing our work and never see a finished product. It was rewarding to see how some of HUD's programs have really helped those in need and just to witness their sincere appreciation was heartwarming. I look forward to more events like that in the future."
###