Agreement Signals New Beginning for New Orleans Development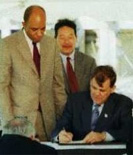 Secretary Martinez signs the agreement as Congressman William Jefferson and Assistant Secretary Michael Liu look on.

HUD Secretary Mel Martinez made a visit to New Orleans recently to sign a Fourth Amendment Agreement speeding up the redevelopment of the St. Thomas public housing development. The agreement includes the City of New Orleans, the Housing Authority of New Orleans (HANO) and developer Historic Restoration, Inc. This agreement toughens the October 1999 St. Thomas HOPE VI Development Agreement establishing timelines for performance. HANO received a $25 million HUD HOPE VI grant in 1996 to demolish and revitalize the 60-year-old St. Thomas public housing development.

The Secretary also presided over the demolition ceremony at the Fischer Housing Development blowing a Klaxon horn, signaling the on-site wrecking crew to begin demolition of the Fischer buildings. The comprehensive plan will replace a high-rise and institutional-styled buildings with small-scale single family homes and multi-unit structures in a new and safe urban community.

Joining Secretary Martinez at the signing were Congressman William Jefferson, HUD Secretary Michael Liu, and New Orleans, City Councilwoman Jackie. B. Clarkson.