The Hayride Diner
Program Manager Diedra Osborn, Master Chef Michael Leon and Food Bank Executive Director Jim Presson celebrate the grand opening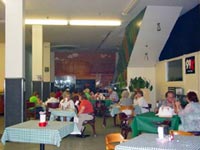 Shreveport citizens gather for lunch at the diner

The mission of the Food Bank of Northwest Louisiana is to serve as a central resource for fighting hunger in the region. So when the organization received a donation in the form of a downtown eatery, it was the perfect opportunity to fulfill this mission: The diner would operate with volunteers; all of the income would go back into the food bank; and a food services training program would help the homeless and the indigent.

And the Hayride Diner was born.

The diner was twice blessed when master chef Michael Leon agreed to prepare the food and to provide the training. Leon is a skilled Louisiana chef and has cooked for presidents and movie stars. One of his claims to fame is the friendship he developed with John Wayne after cooking for him while the "Duke" was making a movie. "He was just as ordinary as you and I."

Chef Leon is steadily developing a strong and loyal clientele since the facility opened last summer. He gets help from volunteers and Food Bank staff. All of the proceeds go to support the Food Bank.

Under Chef Leon's watchful eye, trainees complete a skill-building program to prepare them to become restaurateurs in the community. These trainees come to the Hayride Diner from referring nonprofits in the community whose missions include helping the less fortunate acquire job skills.

A vital member of the local continuum of care, HOPE for the Homeless, the Food Bank serves as a central collection and distribution center to over 150 non-profit agencies. They distribute about five million pounds of food to the hungry each year.

The Hayride Diner is living evidence that when you give a man a fish, he will eat for a day. Teach a man to fish and he will eat for a lifetime.