The Least of These
The face of homelessness is not static. It includes single men and women; veterans; the mentally ill; persons suffering from addiction, and increasingly, families with children.
Despite an effective partnership with two local shelters serving victims of domestic violence and homeless families, the Shreveport-Bossier Rescue Mission realized the need for emergency and transitional housing for women with children was greater than existing facilities could support.
The ministry, begun half a century ago to serve single transient men, was later augmented to include the growing number of homeless women. Reverend Henry Martin and his board began to rethink their service design again--to make a place for this most vulnerable homeless population: Women with children.
Five houses were established as TLC units for families who could live there for up to one year for $100 per month with maintenance provided by the Rescue Mission. But this was far from enough. Mission staff and their partners in the area continuum of homeless providers knew all too well that there are far more waiting in line--women and families with children and no place to go.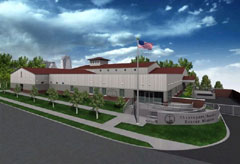 The dream: The 29,000-square-foot facility for the homeless in Shreveport-Bossier.
Thus began an ambitious expansion plan--one that some called unattainable. This fifty-two-year-old ministry to the transient, the homeless and the hungry embarked upon a mission to build a 29,000-square-foot emergency/transitional housing facility, with 100 beds for families, women with children and single women.
The plan called for a kitchen, dining room, women's medical clinic and a playground. The design also included an area for on-site social services such as counseling, employment networking, and a variety of programs designed to help the homeless become self-sufficient.
Second and third stages of the development would involve the construction of a new men's dorm with 80 beds, a men's clinic area and administrative offices. The total estimated cost approached $5 million.
Within two years, the Rescue Mission had raised half the amount. Funds included:
$350,000 from the Federal Home Loan Bank of Dallas;
$250,000 in city HOME funds;
$76,550 from area foundations;
$532,000 in corporate contributions;
$86,000 in in-kind donations;
$825,986 in individual donations, and
$290,182 in fund raising from local churches.
They began an annual fundraising tradition of interdenominational choir festivals. Church choirs from all over the region--Black, White, Baptist, Methodist, Presbyterian, Episcopal, Lutheran and more--came together for a good cause.
With half of the funding in hand, on June 28, 2005, mayors and state senators gathered with a Catholic bishop; Baptist ministers; an Episcopal priest; homeless clients; local philanthropists; community and economic development officials; business people and faith-based and non-profit representatives to witness the groundbreaking.
Fundraising efforts soon reached the point where they realized they could complete this ambitious project in a single phase, not three. In early 2007, the entire facility was complete.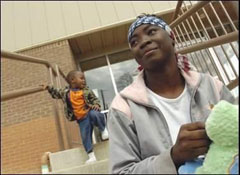 Quandralla Kelly and her young son are the first residents of the new shelter.
On January 11, 2007, Quandralla Kelly and her 2-year-old son, LaRoderick Marshall, became the first residents of the shelter. Kelly had applied at a local shelter, the Providence House, hoping to find a vacancy.
"I was tired of going house to house and not knowing where we were going to sleep or eat," she said.
Providence House program staff told her they were full, but instead of putting her on a waiting list, they were able to refer her to the Rescue Mission. They told her that she and her son would be able to benefit from Providence House's child development center and other programs through their partnership with the Rescue Mission. Families sheltered at the new facility are enrolled in the Providence House program, with access to child care, life and job skills training and eventually off-site apartments.
Expecting beds in a room shared with other families, Kelly was led through a large open multipurpose room flanked by 12 suites for families and a dormitory for 52 single women. She was given a small efficiency suite with two beds, a sitting area, and a private bathroom for herself and her son. Furnished by local churches and private contributors, each is designed to provide a semblance of home for families in transition.
The new facility on the outskirts of downtown Shreveport nears completion.
The 29,000-square-foot facility also includes a dormitory for men, medical and dental clinics staffed by volunteer doctors, nurses and hygienists; a clothing bank; laundry facility; counseling offices; food preparation and dining areas and administration offices. Client services are available 24 hours a day, 365 days a year. Chapel services are offered daily.
According to Reverend Martin, the experience has been both rewarding and overwhelming.
"Jesus said 'Suffer the little children to come unto me.' To see children and families in a safe place where they are not in danger or victims of hunger, crime, domestic violence, or other forms of abuse is so heartwarming. Here children and their parents get three meals a day, primary health care, and dental care in an environment where they can find the help they need to make a new life. Homelessness is frightening enough without separating children from their parents. Here they are safe, among people who care, with the love and comfort only a family can provide."
On a recent night, the family section sheltered eight families with 16 children, 39 adults and 28 single women. The single men's section of the facility stays at capacity with 78 to 80 men a night.
Martin quotes Matthew, "For I was hungry and you gave me food; I was thirsty and you gave me drink; I was a stranger and you took me in . . ."
This ministry is not just a dream. It's a dream come true.