New Life for An Old Friend: Senior Living at Prouty
Many of the people moving into the new Senior Living at Prouty community are finding it feels very familiar. That's because many have walked the halls of this Spencer, MA landmark during its previous life.
Most recently known as David Prouty Intermediate School, this historic building has been reborn as a very low-income senior housing community. Many of its new residents are either graduates or the parents of graduates from this school or the predecessor high school.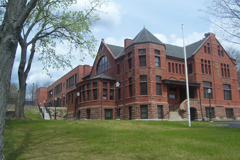 Senior Living at Prouty is one of the most recently constructed Section 202 Supportive Housing for the Elderly housing developments in Massachusetts

The original building, which dates back to the 1880s, has found a new life after a few years without a purpose. Today it has 35 units of affordable housing for very low income seniors (62+) who meet both age and financial criteria. The building also includes a resident manager and a part-time Service Coordinator who will offer many of the supportive services. The 50,000 square foot building features independent living apartments that offer sweeping views of Spencer and the surrounding hills. Outside, reproductions of the original street lamps give the building historically accurate façade, an 1880s feel.
The project is funded through grants from the US Department of Housing and Urban Development (HUD), the Department of Housing and Community Development (DHCD), the Community Economic Assistance Corporation (CEDAC) and MassHousing. In addition, HUD provides project rental assistance to tenants so that they pay no more than 30 percent of their adjusted gross income, thus maintaining affordability. The HUD Section 202 Program awards funding to create affordable, supportive housing for low-income seniors that allow them to continue living independently.
"The response to these apartments has been very gratifying," says Paul Lemieux, MHPI's Director of Finance and Administration. MHPI Inc., a private nonprofit corporation specializing in "Creating Housing...Supporting Lives;" is the project's owner and developer. "One of our new residents is a man who was overcome by what his apartment had to offer. He actually hugged me and thanked me. He told me, "I never thought I could have a place like this living in low-income housing." Another woman, who's particularly happy to call Prouty home, has a unique personal relationship with the building. Her daughter went to school there and later worked as the school's secretary. And before it closed in 2004, her granddaughter attended the school."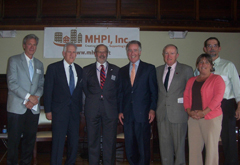 (L-R): Andrew Nelson, DHCD Director of Housing Programs; Sheldon D. Bycoff, MHPI President; Richard A. Walega, HUD Regional Administrator; U.S. Congressman Richard E. Neal; State Senator Stephen Brewer; State Representative Anne S. Gobi and Donald Berthiaume Jr., Chair of the Spencer Select Board, participate in an open house ceremony for Senior Living at Prouty
Such personal relationships with the building are quite common. In fact, Barr's superintendent in charge of the project graduated from the school in 1982. Some of the residents are the parents of students of who went there. "A lot of people within the community who went to school there attended the groundbreaking for the project in August 2008. They were enthralled that the building would be preserved; excited to come back and singing the praises of history," says MHPI president, Sheldon Bycoff.
Senior Living at Prouty includes 35 units of affordable housing, 6 of which are studio and 29 are one bedroom. The project is developed for very low-income seniors and also includes an apartment for the Prouty's Resident Manager. Along with housing, residents have access to on-site supportive services. "Residential communities such as Prouty enable older adults to age in place," Bycoff says. "MHPI strives to provide a living environment that will help tenants live as independently as possible. When the need arises, eligible tenants will be able to avail themselves to an array of services, including personal care assistance and homemaking. The on-site, part-time Service Coordinator will assist residents in linking up with agencies that help them meet such needs as medical services, meals, money management, shopping, grooming or medication monitoring. MHPI's vision is to offer the variety of services one might experience in a private assisted living facility, but generally not financially available to very low-income seniors."
As of 2004, over 27,000 elderly individuals in Central Massachusetts were on waiting lists for low-income affordable housing. This number is sure to grow as the nation's elderly population continues to expand.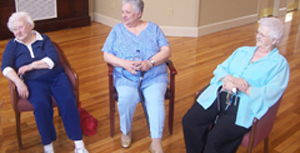 Residents enjoy Senior Living at Prouty
The school's history brings a special character to its residents and the community. Its place on the historic registry made it particularly important to the town as did its location in Spencer's Downtown Historic District. "There is a rich and storied history associated with that school" says Bycoff. "In fact, included in its history is a training ground for past militias. Truly, the building was built to withstand a varied history."
Article courtesy of MHPI, Inc. and Andrea Obston Marketing Communications
###