Kennedy Park Center a Growing Success
Kennedy Park Neighborhood Networks Center students make use of free computers.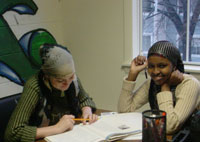 From left to right: Portland High School sophomore Jessica Kimball, and senior Safia Hussein.
There's hardly a dull moment at Maine's Portland Housing Authority's (PHA) Kennedy Park Neighborhood Networks Center. Last year, over 200 school-aged children took advantage of a number of programs, including after school tutoring, Saturday morning SAT math preparation, English as a second language (ESL) study, and UPWARD Bound. During the day, Portland Adult Education and Literacy Volunteers hold ESL and literacy classes for adults.
One of the keys to the success of the Center is PHA's ability to attract committed partners. Partnerships with Bowdoin, Bates, and St. Joseph's Colleges and the University of Southern Maine have been particularly effective.
This past school year, Bowdoin College students collected nearly $800 for the neighborhood networks center and contributed roughly $400 in school supplies. Bowdoin and St. Joseph's Colleges contributed approximately 1,100 hours of volunteer tutoring. PHA staff note with pride that some of the Center's alumni have gone on to medical/dental school, and to such prestigious colleges as Colby, Tufts, Bates, Wheaton, Brown, and Smith.
For additional information about neighborhood networks centers in Maine, contact HUD Coordinator Phil Holmes. The creation of computer centers helps housing residents gain job skills, promote self-sufficiency and provide computer access to low-income housing communities. For additional information, visit HUD's Neighborhood Networks website at http://www.neighborhoodnetworks.org.
Content Archived: March 21, 2011