Unique Partnership is Creating Opportunities
for Disabled Residents in Maine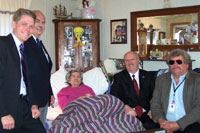 From left to right: HUD Regional Director Taylor Caswell; Coastal Enterprises Director Howard Dupee; Homeowner Roberta Kimble; Mayor Chuluda; and Mike Baran from the State Office of Economic and Community Development.
Until recently, Roberta Kimble was unable to leave her home because it did not have a handicapped accessible ramp. The only time she was able to leave was when one of her sons would carry her out.
On October 21, HUD Regional Director Taylor Caswell joined Westbrook Mayor Bruce Chuluda and representatives from local agencies at an open house at Roberta's home in Westbrook, Maine. The event celebrated the successful completion of a project that builds and installs ramps to allow disabled residents access to their homes. The ramps are modular and movable so the residents can take them if they move.
"This ramp is my freedom," Roberta said. "I couldn't even go out and get my mail before."
The project was managed by Alpha One, a community service agency that enables people with disabilities to live more fully and independently, and included funding from HUD, the state of Maine, and the city of Westbrook.

HUD Regional Director Taylor Caswell reads a letter of appreciation from Alpha One to the project's partners.
The project in Maine, which is installing eight ramps across the state, is modeled after the Minnesota Ramp Project which has built 3,000 removable ramps of modular design in Minnesota and Michigan. The ramps are fabricated off site and assembled on the site of the resident's home.
"By working with our local partners, we really do make a difference in people's lives," said Caswell. "Providing these removable ramps will ensure these families have fewer challenges in the future."
Coastal Enterprises, a HUD-funded agency, provided YouthBuild participants to build the ramps. Last year, Coastal Enterprises received a $400,000 grant for their YouthBuild program, which provides young people between the ages of 16 and 24 who never finished high school with on-the-job training to acquire construction skills. The participants also receive classroom instruction to earn their GED. AmeriCorps provided volunteers to install the ramps.
Content Archived: March 21, 2011