Long and Winding Road to Homeownership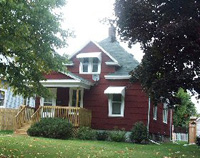 The house that the Community Land Trust helped Tamara and Nathan purchase.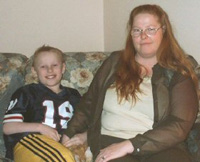 Tamara and Nathan Lee pictured in their new home in Duluth
The families who took the important steps to prepare for homeownership and the Northern Communities Land Trust (http://www.landtrustduluth.org/) share these stories of journeys to homeownership.
Tamara and Nathan Lee's journey to homeownership begins and ends in West Duluth, with many twists and turns along the way. In 1992, Tamara dropped out of high school and got married at age 18. Tamara's son Nathan was born in 1995, and the next year the family found their way to the Loaves & Fishes Community, three houses of hospitality for homeless men, women, and families. Tamara and her husband separated around that time, and were officially divorced four years later.

At that point Tamara got on state assistance. She got her GED in 1997. Then she and Nathan lost their apartment, and they stayed in a motel for six months. "I was working two jobs: housekeeping in the mornings at a motel, and telemarketing in the evenings," Tamara said. "Then my back went out and I had to quit working. I went from the motel to public housing because I couldn't work anymore." Through state assistance, Tamara participated in a program, which helps people with disabilities determine what type of work suits them best. She was then referred to FlexWork, where she learned typing and computer skills.

In April of 1999, Tamara graduated from FlexWork and got a job the following July as an administrative assistant at United Health Care, where she worked for three years. Gradually, she started dreaming about owning her own home. She took a homebuyer education class through Neighborhood Housing Services in the fall of 2001, and learned about Northern Communities Land Trust from instructor Gloria Olson. In the spring of 2002, Jill Winkler at North Shore Mortgage approved Tamara for a mortgage. Thrilled, Tamara called the Land Trust to claim her spot with the Homeland program.

Then Tamara's team was moved to International Falls and she was laid off from United Health Care, and she had to drop out of the Homeland program. Three months later, however, she was hired as an administrative assistant at RailWorks, so she called the Land Trust again. Luckily, there was one Homeland spot left.

In the summer of 2002, with the help of Jeff Urbaniak at Tondryk Realty, Tamara began looking at houses-lots of houses. Because she qualified for such a small mortgage, even the Land Trust's $14,000 down payment grant was not enough to get her into a decent house. "Then Jeff mentioned that Spirit Valley Citizens Neighborhood Development Association (SVCNDA) of West Duluth) was offering down payment assistance." The assistance was based on income and need, and Tamara qualified. But it was still not quite enough to get her into a home.

Finally, in September of 2002, Tamara got a raise, and was able to qualify for a higher mortgage. Soon after, she found her house. "The day I moved into my house, I felt at home for the first time," she said. "No loud neighbors, no shootings, no drugs. Everyone in my family loves my house. They're so happy for me. I really appreciate the Land Trust-I wouldn't have been able to buy a house without it." Nathan, now 7 years old, said, "I especially love my room. For the first time, I can decorate it the way I want to." He chose blue paint, a blue light bulb overhead, and a big shark swimming along the wall.
Just as the purchase of the home was a team effort among several community organizations, so was the rehab. The Land Trust put $10,000 in rehab into the home, and SVCNDA added another $5,000. This will bring all new windows throughout the home, a new roof, new exterior doors, and a new sidewalk as well as updated electrical and plumbing systems. The rehab is administered by the Housing & Redevelopment Authority (HRA), a service the HRA has provided free of charge to thirty-five Land Trust homeowners to date. The Arrowhead Economic Opportunities Agency (AEOA) insulated and air-sealed the house, which was paid for in part by funds from Minnesota Power's Conservation Improvement Program.