MPHA and Senior Community Preserve Legacy of Thomas T. Feeney, Jr.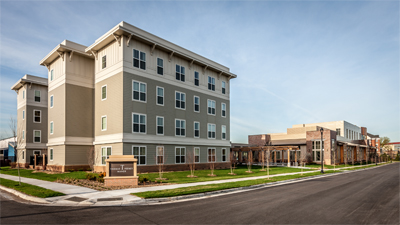 Feeney Manor

The Minneapolis Public Housing Authority (MPHA) recently celebrated the unveiling of the Heritage Park Manor Services and the Thomas T. Feeney Manor. They are to support the senior citizens of Heritage Park, a neighborhood in North Minneapolis. The two projects combined received more than $20 million from HUD in Capital Fund Recovery Competitive Grants. They have created 50 permanent jobs.
This complex is very special in many respects. Before the advent of Feeney Manor in North Minneapolis, a nursing home was the only option for public housing seniors who needed assisted living or memory care services. Along with these services are a whole spectrum of activities and services for the residents.
Additionally, it is an energy efficient green community that has created 50 permanent jobs. To make the development even more special to HUD employees; it was named in honor of a former HUD Field Office Director.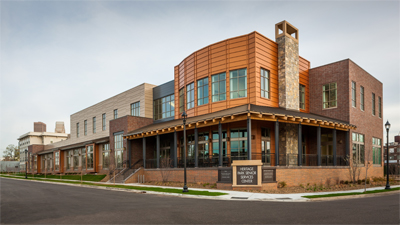 The whole complex - the memory center with Feeney Manor at the back.

The 48 one-bedroom senior housing facility was named after the late Thomas T. Feeney, Jr. He served as the Field Office Director for HUD's Minneapolis Office from 1971 to 2004. Considered to be the "face of HUD" in Minnesota, Mr. Feeney was active in urban renewal housing. He worked with city officials, mortgage bankers, real estate developers and the Urban League in Minnesota.
Mr. Feeney demonstrated efficiency in public service. He also demonstrated genuine care and concern for the community and his staff.
"Tom was an excellent cheerleader to all of us, he was an excellent mentor to many of us, he was a protector for some of us, and he was an inspiration to everyone who met him. The Thomas T. Feeney Manor is well-named," said Stephen Gronewold, Associate Regional Counsel for HUD's Minneapolis Office.
"Tom Feeney was the finest area director in the HUD system, the dean of federal civil servants," said former St. Paul Mayor, George Latimer. "He was regularly called to Washington, D.C. for his wisdom. Those of us close to him and who worked for him had deep respect and affection for him. He carried authority and knowledge with more grace than any public official in my memory."
Cora McCorvey, MPHA Executive Director, collaborated with Feeney shortly after becoming Minneapolis Public Housing Authority's (MPHA) Executive Director in 1990. "I sought out Tom as I was learning and growing in what was for me a new and challenging position, as an African American woman, running the largest housing authority and perhaps the biggest provider of affordable housing in the state of Minnesota. Tom offered wise counsel, served as a mentor and grew to be a dear friend and a consistent ally for MPHA. We accomplished many things that helped preserve MPHA's most precious resources, safe, decent and affordable housing for our community."
"When MPHA successfully competed for an ARRA [American Reinvestment and Recovery Act] grant, to build a first in the nation 'Green' Memory Care development for frail elderly persons with Alzheimer's disease and other forms of memory loss, I began thinking of his impact on housing opportunities for the most vulnerable and when I learned that Tom died on April 1, 2010, I could think of no better tribute to his contribution and no greater way to recognize his legacy than to name the memory care development, Thomas T. Feeney Manor," she said.
###