HUD Greensboro Field Office Participates in Southeastern Affordable Housing Management Association Conference
"There is No Place like Home"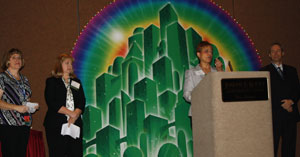 2013 SAHMA Conference: Susan Westbrook, NCHFA; Amy Vorenkamp, NC Quadel; Dottie Troxler, HUD NC and SC Multifamily Hub Director (addressing conference attendees); and George Caruso, President of SAHMA

On May 8-9, the NC State Southeastern Affordable Housing Management Association (SAHMA - www.sahma.org/) conference was held at the Koury Convention Center in Greensboro, NC. This year's conference theme was "There is No Place like Home."
Staff members in the HUD's Greensboro Field Office, as well as, HUD NC and SC Multifamily Hub Director, Dottie Troxler, participated in the conference, along with approximately 750 attendees from project management companies and affordable housing organizations in NC. After welcoming remarks from Ms. Troxler, attendees contributed to sessions that included tax credit updates, enterprise income verification (EIV), TRACS 202.D update, smoke- free housing, service coordinator training, legal issues and fair housing. The Conference also offered a session dedicated to property maintenance staff.
Curt Davis, Greensboro Field Office Director recognized the efforts of SAHMA saying, "HUD considers SAHMA to be a valuable partner in the achievement of our mission to create strong, sustainable, inclusive communities and quality affordable homes for those we mutually serve."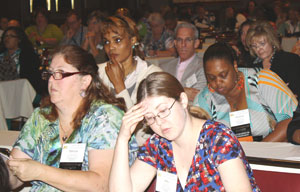 2013 SAHMA Attendees

This year SAHMA offered a Drug Free Kids poster competition for children in grades K to 12, as well as, for elderly/special needs individuals. During the conference luncheon on May 8, SAHMA awarded prizes to the contest winners. Akira Pigford, a fifth-grade student at a tax credit affordable housing property was this year's grand prize winner.
In addition to a monetary award for her poster, Akira also won a new laptop computer. Akira's poster has now been submitted to National Affordable Housing Management Association (NAHMA - www.nahma.org/) to be judged again in competition with winners of all eight Affordable Housing Management Associations in the country.
###