Former Littleton Hospital Gets New Use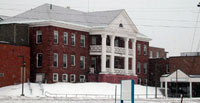 Former Littleton Hospital before being redeveloped by AHEAD.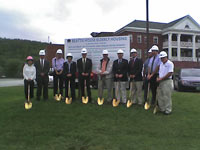 Local and federal officials join AHEAD for the ceremonial groundbreaking.
In late 2002, Affordable Housing, Education and Development, Inc. (AHEAD), accepted the donation of the former Littleton Hospital from its for-profit owner to redevelop and operate the property. AHEAD researched several development options for the adaptive reuse of the vacant facility that faces the Ammonoosuc River from the center of Littleton, NH. Shops and restaurants are within walking distance. AHEAD worked closely with local officials to assure that the redevelopment was in the community's best interest.
In two consecutive years, AHEAD applied for and received HUD Section 202 funds to rehabilitate the Hospital's main building into 22 one-bedroom units for elderly persons and a two-bedroom unit for a resident manager. HUD's Section 202 funds help to expand the supply of affordable housing with supportive services for the elderly. The grants fund developments that provide very low-income elderly with options that allow them to live independently but in an environment that provides support activities such as cleaning, cooking, transportation, etc.
On August 21, 2006, local and federal officials joined AHEAD for a ceremonial groundbreaking. The complex has taken a new name and is now called Beattie House. Learn more about the non-profit, community development organization AHEAD (http://www.homesahead.com) and the properties they own and manage. Visit HUD's website to learn more about the Section 202 Supportive Housing for the Elderly program.
Content Archived: March 21, 2011