HUD Awards 44 Rental Assistance Vouchers in Las Vegas
First-Time Homebuyer Recognized Using HUD Homeownership Program
U.S. Housing and Urban Development Assistant Secretary Michael Liu presented a $357,228 ceremonial check to the North Las Vegas Housing Authority on January 14, 2004. A person became a first-time homeowner by utilizing HUD's Housing Choice Voucher Homeownership Program to purchase her first home in North Las Vegas. The check will cover the cost of 44 more HUD Housing Choice Vouchers (HCV) that are used for rental assistance.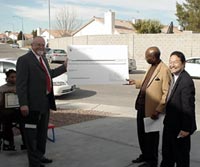 Left: Don England, Executive Director North Las Vegas Housing Authority Center: Mr. William Robinson, Mayor Pro Tem, City of North Las Vegas Right: Michael Liu, HUD Assistant Secretary for Public and Indian Housing
"We are committed to helping families afford housing through the Housing Choice Voucher Rental Assistance Program," said Michael Liu. "This program also makes it possible for families to achieve the American Dream of homeownership."
The 44 HCV will be given to families who had been temporarily relocated to other public housing units when the housing authority sold units that were scattered through out the city. These vouchers will allow affected families to move into housing of their choice.

The person and her three children moved into their new four-bedroom home in September 2003. After participating in the North Las Vegas Housing Authority's (NLVHA) Family Self-Sufficiency (FSS) Program for four years, and attending a Nevada Housing Services homebuyers training workshop for three months, she is one of three first-time homebuyers who took advantage of the housing authority's HCV Homeownership Program. NLVHA has participated in the HCV Homeownership Program since 2002.



Along with Mr. Don England, Executive Director of NLVHA, Ms. Shirley Hogan (Commissioner), Mayor Pro Tem William Robinson, HUD Assistant Secretary Michael Liu, presented the certificate for the participant's completion of the FSS Program and for becoming a homeowner, FSS is another HUD program that encourages communities to develop local strategies to help voucher assisted families obtain employment that will lead to economic independence and self-sufficiency. The person also received a housewarming gift from HUD - a large plant to place in her new home.