New Beginning for Housing
Starts with Demolition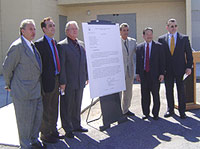 Officials are happy to have signed demolition approval letter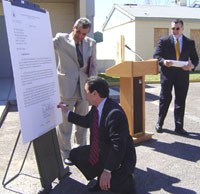 Mr. Liu signs demolition approval letter as Mr. Ghadiri and Mr. LoBene watch
Additional housing opportunities for low-income individuals and families in the community will be coming soon. The demolition of the Ernie Cragin Terrace Public Housing Project will allow for the redevelopment of the property. This will create about sixty new places to live. It will also have a community center and outdoor family recreational areas.
There are approximately 1,700 families on the Public Housing Authority's waiting list and 950 on the Authority's Section 8 rental assistance waiting list. This is a good step toward improving the community. It will provide homes for some of those people.

The Housing Authority's initial plans are to put the site to its highest and best use. They may parcel a 1.1-acre portion of the 7.9-acre property for commercial use. Commercial properties can help create jobs.
Ernie Cragin Terrace is located at 3928 Chang Street, Las Vegas, Nevada. It was built in 1971. It is an old and worn out 54 unit conventional low-rent public housing project. The development would take too much money to fix up under the Capital Fund Program. The Housing Authority submitted an application to demolish the project. The application was approved by the U.S. Department of Housing and Urban Development on February 11, 2005.

Mr. Michael Liu, HUD Assistant Secretary for Public and Indian Housing, signed an approval letter for the demolition of Ernie Cragin Terrace. This might of be the last demolition letter he signs as Assistant Secretary. The Las Vegas Field Office Director, Kenneth J. LoBene also attended a ceremonial event. The guest speaker was Mr. Robert "Bobby G" Gronauer, Board of Directors' Chairperson Housing Authority of the City of Las Vegas. The staff from the City of Las Vegas Housing Authority was present for the occasion.