Most Valuable Partner Award
Presented to Clark County Housing Authority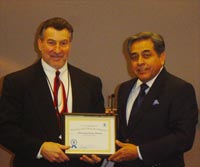 Left to right: Mr. Kenneth J. LoBene, Las Vegas Field Office Director, Mr. Fernando Romero, Clark County Housing Authority Board of Commissioners Chairman
Approximately 4,750 people registered for assistance at the designated Las Vegas Hurricane Help Center. Clark County Housing Authority rose to the occasion. It was appropriate to recognize this agency as truly a " Most Valuable Partner " that works closely with the Las Vegas HUD Office.
Shortly after the hurricane Katrina disaster hit the southern states, Catholic Charities of Las Vegas requested HUD's assistance with the evacuees that were migrating to the local Nevada area. HUD staff responded immediately and called the three local area Housing Authorities.
One of those contacted was the Clark County Housing Authority. HUD asked if they could attend a meeting at 7:00 AM the next morning. By 8:00 AM HUD and the Clark County Housing Authority were at the Fratita Center working out their plans of how to best serve the evacuees.
The award they were presented was to recognize their tremendous support in assisting Hurricane Katrina and Hurricane Rita evacuees. Over the course of the next six weeks approximately 5000 people were processed. Many of those people and families were placed into the local Housing Choice Voucher (Section 8) rental assistance programs and found housing. Numerous others were located into available Public Housing units. The Clark County Housing Authority assisted in finding housing in Las Vegas and the nearby areas for a significant portion of the evacuees.
The city created a special program for the victims. They transferred funding into a program that allowed temporary assistance vouchers for one year. The Housing Authority worked with them and helped process approximately additional 300 families into the special voucher program.
The Housing Authority continues to have FEMA (Federal Emergency Management Agency) representatives working out of their offices.
Clark County Housing Authority held their regular meeting of the Board of Commissioners on Wednesday, December 21, 2005. Their mission is to provide affordable housing to eligible people within the Las Vegas community while creating and promoting opportunities for independence, self-sufficiency and an improved quality of life.
The Las Vegas HUD Field Office Director, Mr. Kenneth J. LoBene, seized the opportunity to be included as part of their agenda. He attended that meeting in order to present an award to Mr. Fernando Romero, the Clark County Housing Authority Board of Commissioners Chairman. The Clark County Housing Authority was recognized for being a "Most Valuable Partner."