Housing Authority Accepting Applications
for Rental Help
Great news! Beginning Monday, June 5, 2006 the City of Las Vegas Housing Authority will accept applications for the Housing Choice Voucher program.
This is the first time in three years that Housing Choice Voucher (Section 8) applications will be available in this area. Applications will be accepted from 8:30 AM to 11:00 AM and 1:00 PM to 4:00 PM at the Las Vegas Housing Authority in Las Vegas, Nevada.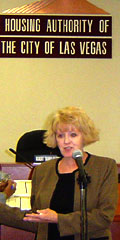 Leslie Ciski speaks at housing authority meeting
Ms. Leslie Ciski, Public Housing Specialist of the Las Vegas HUD Office, attended a special meeting held at the Las Vegas Housing Authority on Friday, May 5, 2006. They announced the procedures that will be used to bring more vouchers to the local community.
For specific details visit the City of Las Vegas Housing Authority's website: http://www.haclv.org