When Dreams Become Reality
Consumers watch as gasoline, food, and other basic living costs takes more and more out of the family's income making their dreams of owning their own home, appear just that, "a dream." This could have been the case for Mr. Jim Hon, but he was able to make his American Dream come true. His story could be yours too!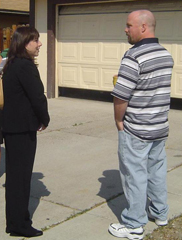 Mr. Hon discusses his purchase experience with Hillary Lopez, State of Nevada Housing Division's Chief of Federal Programs.
Mr. Hon had good credit, but wasn't able to save enough money for the down payment and closing costs in order to purchase a home. After talking with his real estate agent, Mr. Hon was advised to contact a lender to become pre-qualified for a home loan and to know how much he could afford to pay for a house. His lender pre-qualified him for a mortgage loan through the State of Nevada Housing Division's First-Time Homebuyer program. Utilizing the Nevada Housing Division's program, Mr. Hon qualified for a 30-year fixed rate, FHA insured loan, with a $7,000 soft second-mortgage down-payment assistance loan.
Mr. Hon reported, "I had a wonderful experience in the home-buying process. I felt the time was right; it's a buyers market, and I wanted to take advantage of the lower priced available homes". Mr. Hon said, "I shopped for a 'home' not a 'house'. My realtor was absolutely great as well as was the lender who answered all my questions and worked with me diligently." Mr. Hon went on to say that he could not have gotten into the house without the down-payment assistance. "All the participants in the process were so helpful to work with, all the way from realtor, lender, and the Housing Division's home-buyer program; there was just absolutely no stress. I tell everyone they should check out the Nevada Housing Division's first-time homebuyer program before they buy. I am that happy."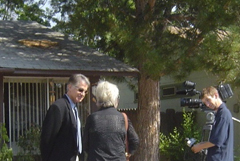 Wayne Capurro, President Reno Sparks Association of Realtors, interviewed by KRNV Channel 4 News regarding Mr. Hon 7 & the Reno housing market.
Mr. Hon pointed out that he shopped for an older home that needed some rehabilitation. He wanted to add his own personality to his house that he is planning to live in for some time. He said he has been in his house now for about 4 months. Mr. Hon has concentrated solely on improvements on the interior as that is where he lives. The exterior will be the next step.
Owning the American Dream is still possible in today's economy for those who have maintained a good credit standing. Housing prices have declined enough that purchasing a home makes good economic sense for many buyers who have been "sitting on the fence". Mr. Hon is employed as a truck driver working 11-hour days. He makes round-trip drives (627 miles) between Reno, NV and Lone Pine, CA. Mr. Hon states that prior to purchasing his home he was paying $1,100 a month for rent. He says that his new house payment is only about $200 more per month than what he was paying for rent plus you receive tax benefits.
Most new homeowners go through the experience of joy and a sense of community pride, knowing that this is 'my' home. You've accomplished that American Dream -- that's priceless!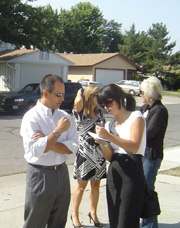 Tony Ramirez, HUD Field Office Director, talks with a reporter from the Reno Gazette Journal.
Mr. Hon's story is just one example of how partnerships between federal, state, local and non-profit entities continue to provide opportunities for first-time homebuyers in communities throughout the United States.
Additional information on first-time homebuyer programs and down payment assistance available in the State of Nevada can be obtained by clicking on the following links:
State of Nevada Housing Division's programs (http://www.nvhousing.state.nv.us)
Nevada Rural Housing Authority's Home At Last™ program (www.nvrural.org/learning.html)
###