Las Vegas Summer Kickoff for My Brother's Keeper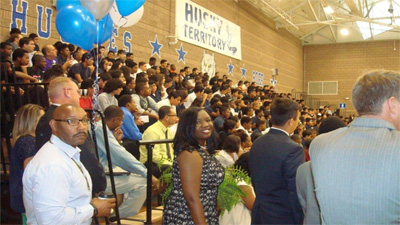 Crowded gum listening to speakers.


Congressman Steven Horsford and the Las Vegas My Brother's Keepers Collaborative held their summer kick off at Charles West Middle school on July 18th, 2014. The event featured keynote speaker Associate Attorney General Tony West. Other speakers included U.S. Congressman Horsford, Clark County Commissioner Larry Weekly and other local elected officials.
There were over 300 middle school children in attendance. The event offered the students the opportunity to participate in a variety of workshops. The workshops were on literacy, community health, crime intervention and education.
Phyllis Hargrove, HUD Senior Management Analyst facilitated the session on community health. Phyllis also provided printed HUD materials and HUD folders to the children during and after their lunch.
This My Brother's Keeper kickoff is the first in a series of events to promote the Initiative in the Las Vegas area. The HUD office is working closely with Dr. Tiffany Tyler of Nevada Partners to coordinate other events and to provide technical assistance to prepare area nonprofits to pursue funding opportunities that can help boys and young men of color.

Clark County Commissioner - Lawrence Weekly; Las Vegas HUD, Senior Management Analyst - Phyllis Hargrove; U.S. Congressman Steven Horsford.


President Obama has taken action to launch My Brother's Keeper. It is a new initiative to help every boy and young man of color who is willing to do the hard work to get ahead.
For decades, opportunity has lagged behind for boys and young men of color. But across the country, communities are adopting approaches to help put these boys and young men on the path to success. We want to build on that work.
We can learn from communities that are partnering with local businesses and foundations to connect these boys and young men to mentoring, support networks, and skills they need to find a good job or go to college and work their way up into the middle class. The government will do its part by helping to identify and promote programs that work.
Contact Phyllis Hargrove (phyllis.a.hargrove@hud.gov).
###