Grant Writing Workshop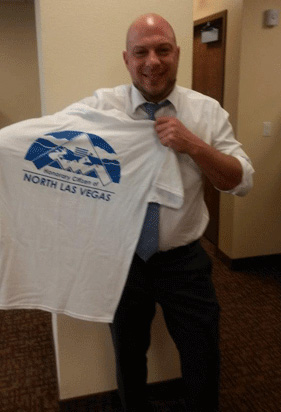 Brian Sagert displays t-shirt

On August 7, 2014 approximately 200 people attended an annual Grant Writing Workshop coodinated by HUD's Las Vegas Department of Opportunity. The purpose was to let the attendees see the many funding opportunities available within HUD and other agencies. The meeting was held in the North Las Vegas City Hall Council Chambers.
The attendees heard from speakers from HUD, USDA, HHS and DOL. Other speakers included representatives from the State of Nevada, Federal Home Loan Bank of San Francisco, City of North Las Vegas, Clark County Library, Wells Fargo and Bank of Nevada, Nevada Arts Council. Local private foundations Nevada Humanities and the Moonridge Group also spoke.
The six hour event opened with City of North Las Vegas Mayor John Lee welcoming the participants. He presented the new Las Vegas Office Director, Brian Sagert, with a t-shirt that read "Honorary Citizen of North Las Vegas".
Phyllis Hargrove, HUD Senior Management Analyst and Kathi Thomas Gibson, a former professional grant writer and current Manager of City of North Las Vegas Community Outreach lead the grant writing training to provide the participants detailed insights on capacity building. A member of the banking panel provided grant applications to the workshop participants.
Shortly after the workshop the HUD office was informed that the bank received many applications and has indicated that they plan to fund quite a few of the non-profit applicants. The Las Vegas communities will receive thousands of dollars as a direct result of HUD's Las Vegas Department of Opportunity Grant Writing and Capacity Building Workshop.
###