Encore Community Services Breaks Ground for Senior Housing in Midtown Manhattan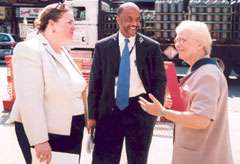 Officials Celebrating New Housing for the Elderly in NYC. From left: Deborah VanAmerongen, HUD's NYC Multifamily Housing Director; Sean M. Moss, HUD's NY/NJ Regional Director; Encore's Executive Director, Sister Elizabeth Hasselt.
On Tuesday, June 14th Encore Community Services held a groundbreaking ceremony to commemorate the construction of the Encore West Residence, a new housing facility for low-income seniors being constructed within the Clinton Urban Renewal Area of west-midtown Manhattan. The ceremony was held at 755 Tenth Avenue, between 51st and 52nd Streets, the site of the new project. Encore's Executive Director Sister Elizabeth Hasselt moderated the event. Speakers included Sean Moss, HUD's NY/NJ Regional Director, Shaun Donovan, Commissioner of the New York City Department of Housing Preservation and Development (HPD), Manhattan Borough President C. Virginia Fields and Anna Hayes Levin, Chair of the Clinton Land Use and Zoning Committee of Community Board #4.
Encore West will provide 84 new rental apartments to very low-income seniors, 62 years of age and older. The property will include fully equipped units, a multi-purpose community room, library, state-of-the-art security system, front-desk coverage in the reception lobby, laundry and kitchenette facilities on the first floor and a garden and seating area in the rear of the building. A full-service management company will oversee operations. Social services will be provided, as needed. HUD provided $13.1 million in construction funding under its Section 202 program.
Content Archived: March 07, 2011