Tenants Partner and Negotiate to Gain Ownership of Cathedral Parkway Towers in NYC
On Thursday, June 23 the tenants of Cathedral Parkway Towers in New York City celebrated achieving something they have been striving to gain for years, the ownership of their building. This special event was the result of the joint efforts made through a unique partnership formed between the tenants, the State of New York, a private developer, and HUD. Cathedral Parkway Towers is a 309 unit, two building complex located on West 110th Street & Cathedral Parkway in Upper Manhattan. It was initially occupied in 1975, however, because of some problems that arose during its construction, it never progressed as planned and had to be placed under State supervision for a number of years (under the Mitchell-Lama program).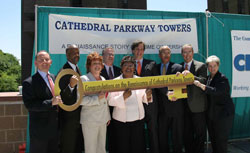 Turning over the "key" to the tenants of Cathedral Parkway Towers at a June 23 ceremony are (from left): Michael Friedman, Sr. VP of the NYS Mortgage Agency; Sean M. Moss, HUD's NY/NJ Regional Director; Judith A. Calogero, Commissioner of NYS Division of Housing and Community Renewal (DHCR); Assistant DHCR Commissioner Richmond McCurnin; Treasurer Willie Mae Anderson of the United Tenants Association of Cathedral Parkway Towers; developer Robert S. Nelson, President of Nelson Management Group; NYC Comptroller William C. Thompson, Jr. ; Michael Lappin, President and CEO of The Community Preservation Corporation; and Diane Bratcher, NYC Department of Finance's pension unit Director.
At the time Cathedral towers was developed, the NYS Division of Housing and Community Renewal (DHCR), the builder and the tenants, acting through the United Tenants Association of Cathedral Parkway Towers (UTACPT) entered into a Tenant Participation Agreement (TPA) which provided for tenant management and the eventual tenant ownership of the buildings. However the problems noted above stood as a barrier to this transfer of ownership. Legal actions followed and the project was tied up for years in litigation. The building also fell severely behind in its mortgage and was in need of substantial repairs.
HUD then started working with the tenants and owners in 2002 to craft a solution. DHCR played a major role in resolving the issues along with a new developer/purchaser that was brought in who helped form a corporation (LLC) which named UTACPT as the sole member. The LLC purchased the building, paid off the existing debt, achieved a rent increase approved by DHCR, settled the litigation, made repairs to the building and stabilized operations, all to facilitate the transfer to tenant ownership. The repayment of the existing mortgage and termination of the Rent Supplement Contract triggered HUD into providing enhanced subsidy vouchers to all income-eligible residents which then protected them from the adverse impact of the required rent increase.
In the end, a combination of dedication, sheer will, and creativity combined to make a difficult situation one in which all parties would benefit.
Content Archived: March 07, 2011