A New Beginning - Prospect Plaza
Monday June 27th marked the next step on the road toward a new beginning for an aging public housing complex in Brooklyn. A new start that is characterized by creativity, better rental housing and homeownership opportunities.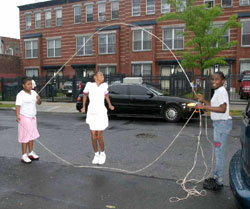 Children jumping rope in the new Prospect Plaza neighborhood.
Prospect Plaza Houses, located in the Ocean Hill-Brownsville communities of Brooklyn, was built in 1974 and originally consisted of four-masonry 12 and 15 story buildings containing 368 public housing units. Several years back the New York City Housing Authority (NYCHA), noting the deteriorating condition of the property and seeking to take advantage of HUD's new vision for public housing embodied in the HOPE VI program, applied to HUD for funding to rethink and rebuild the complex. NYCHA was then rewarded for their creative vision through receipt of $21.4 million HOPE VI grant from HUD in 1999 for the revitalization of Prospect Plaza and the surrounding neighborhood. To date, one tower containing 102 units has already been demolished for development of new community center, commercial space and additional rental units. The June 27th event marked the next step toward revitalizing the remainder of the property. The completed work that will result will contain approximately 670 units: 323 public housing rental units, 273 non-public housing rental units and 37 two-family homeowner units. The total project, one which envisions a more mixed-use/mixed ownership concept, will in the end cost over $255 million.
This is truly a new beginning for Prospect Plaza, and for the Ocean-Hill/Brownsville neighborhood.
Content Archived: March 07, 2011