Adolfo Carrión Visits Capital District to Celebrate New Affordable Housing Developments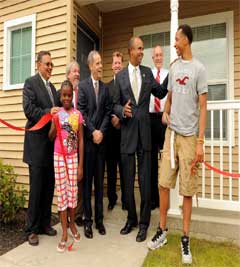 L to R: Charles Patricelli, Executive Director - Watervliet Housing Authority; Francis J. Murray Jr., President/CEO - NYSERDA; Michael Skrebutenas, Chief Operating Officer - NYS Homes and Community Renewal; Mayor Michael Manning - City of Watervliet; Adolfo Carrión, Regional Administrator - HUD; Duncan Barrett, Chief Operating Officer - Omni Housing
On Tuesday, July 12, 2011 Regional Administrator Adolfo Carrión visited the Capital District area to celebrate the opening of several new affordable housing developments. In the morning, Mr. Carrión attended the ribbon cutting of Van Rensselaer Village Apartments in Watervliet. The complex just completed the renovation of its 80 rental units, ranging in size from one to four bedrooms. The development is managed by the Watervliet Housing Authority and secured $3.8 million in Recovery funding along with $9.5 million in tax credits.
The ceremony included Charles Patricelli, Executive Director of the Watervliet Housing Authority; Francis J. Murray Jr., President/CEO, NYSERDA; Michael Skrebutenas, Chief Operating Officer, NYS Homes and Community Renewal; Mayor Michael Manning, City of Watervliet; David Swawite, President & CEO, Omni Housing Development, LLC; and, Duncan Barrett, Chief Operating Officer, Omni Housing Development, LLC.
In the afternoon, Mr. Carrión visited the City of Albany to attend a ribbon cutting marking the opening of Capital South Properties, a new and rehabilitated rental complex in the shadow of Lincoln Square in the south end section of the city. This latest development includes nine single-family homes and four new apartment buildings, and follows the completion of 52 rental housing units completed last year. Additionally, Mr. Carrión presented Albany Mayor Gerald Jennings and Albany Housing Authority Executive Director Steven Longo a ceremonial check for $4.9 million for the construction of a neighborhood college called the Capital South Campus Center. The Center was made possible through a collaborative effort among over a dozen government, high education, non-profit and private business interests. It will be a hub of activity, hosting training, education and community functions, while incorporating child care and youth programming. The ceremony also included the participation of numerous State and local officials, as well as business and clergy leaders.
Content Archived: December 2, 2013