HUD Volunteers Participate in New York City Homeless Count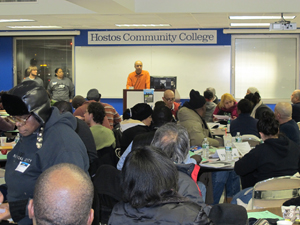 RA Adolfo Carrión Speaks to a Room full of Volunteers about the Importance of Counting the Homeless

Instead of being tucked away in his bed at 2:00 a.m., Regional Administrator Adolfo Carrión joined forces with volunteers from the New York City Department of Homeless Services to walk the Bronx streets in the important task of counting the homeless. For 10 years, the Department of Housing and Urban Development has tasked volunteers -- nationwide -- with counting the number of people sleeping on the streets on a given night in January. The participants from 4,000 communities walk up and down their assigned blocks to conduct the point-in-time homeless count, asking each person they encounter if he or she has a place a stay, and jotting down the responses for HUD and its partnering agencies to analyze. New York City's point-in-time count took place Monday evening, January 30. Besides Adolfo, HUD regional staff volunteered in the New York City count. Additionally, the New Jersey Field Office staff helped count the homeless in Newark.
"The work we do tonight paves the way for the work that we do the rest of the year," Seth Diamond, Department of Homeless Services commissioner, told The Huffington Post before the count got underway in New York. "It does provide a good gauge of how we're doing. It's a good baseline check."
While the national counts offer only a "snapshot" of homelessness, such a picture helps hold HUD accountable, HUD Deputy Press Secretary Tiffany Thomas Smith said. The Department now relies, in part, on such data to see how well it's implementing the Obama Administration's plan to end veteran and chronic homelessness by 2015. HUD's analysis of the data will not be available for a few months.
###