HUD Albany Center Marks 25th Anniversary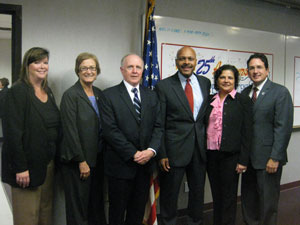 (l-r) Julie Shaffer, Director of HUD's Homeownership Center; Carol Galante, Acting Assistant Secretary for Housing/FHA Commissioner; Lester West, Director of the Albany Debt Collection Center; Maurice Jones, HUD Deputy Secretary; Mirza Orriols, HUD Acting Regional Administrator; and, Jaime Forero, Director of the HUD Albany Field Office

The HUD Albany Debt Collection Center celebrates its 25th anniversary this week, as well as surpassing $800 million in federal debt collections. The occasion was marked last week when HUD Deputy Secretary Maurice Jones, Carol Galante, Acting Assistant Secretary for Housing/ FHA Commissioner, and Mirza Orriols, Acting Regional Administrator, visited Albany to recognize the Center's 25 years of outstanding service and its commitment to be a watchdog over taxpayer dollars.
"It has been an honor and privilege to lead a group of people who have accomplished so much, and who are dedicated to the mission of excellent customer service and recovering monies for the American taxpayer," said Lester J. West, Director of the Albany Center.
The Albany Debt Collection Center began in 1987 as a Regional Servicing Center for HUD's Federal Housing Administration's (FHA) property improvement and manufactured home loan programs for all of New York and twelve northeastern states. The Center's success in taking on added responsibility, while reducing staffing levels and other operational costs, led to additional expansion of its territory and scope. Since 1998, it has had nationwide responsibility for servicing and collecting all of FHA's delinquent receivables as well as other financial processing for the FHA.
The Center's focus on collecting delinquent HUD loans and accounts helps to support FHA's loss mitigation and risk management efforts. To date, the Albany Center has collected over $812 million which goes to the FHA insurance fund that is used to operate its home loan programs and supports FHA's effort to continue as the only federal government agency that operates entirely from its self-generated income.
###