HUD Joins Partners to Celebrate Preservation of Affordable Housing in Queens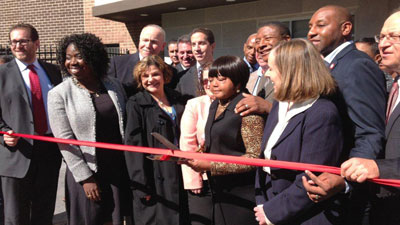 Acting Regional Administrator Mirza Orriols (3rd from left) joins with HUD partners to cut the ribbon

On September 23, Acting II Regional Administrator Mirza Orriols joined with the New York City Housing Preservation and Development, the New York City Housing Development Corporation, The Arker Companies, and other partners to celebrate the completion to Oceanview, Oceanside, and the senior residence Heyson Gardens, a three multifamily complex located in Far Rockaway, Queens that received millions of dollars in public and private financing that resulted in comprehensive renovations and major systems replacements.
"It is a good day for HUD when affordable housing is preserved at a time when affordable housing stock is dwindling," said Orriols. "By extending our Section 8 Housing Assistance Payment Contract, 328 units will remain affordable for Far Rockaway tenants for an additional 20 years. In addition to the Section 8 program, Freddie Mac was able to work with the NYC Housing Development Corporation to provide mortgage insurance. The preservation of affordable is one of HUD's top priorities, and I am thrilled that our agency is part of the solution that will provide hundreds of families and seniors a new home."
The total development cost for Oceanview, Oceanside, and Heyson Gardens totaled $66.6 million that included extensive repair and improvement of each building's major systems, apartment interiors, masonry repairs, elevator and security upgrades. The renovations included extensive energy-efficient upgrades, including the installation of new insulation, new boilers and energy-efficient lighting. The renovations also included the installation of cogeneration plants. The entire rehabilitation was financed with a $14.4 million HDC First Loan, with the tax-exempt bond portion of the loan supported by Freddie Mac. The project also received $22 million in Low Income Tax Credits and went through HUD's decoupling process to separate the mortgage from the rental subsidy.
###