HUD joins NYC Puerto Rican Day Parade, U.S. Hispanic Chamber of Commerce to highlight HUD's Section 3 Business Registry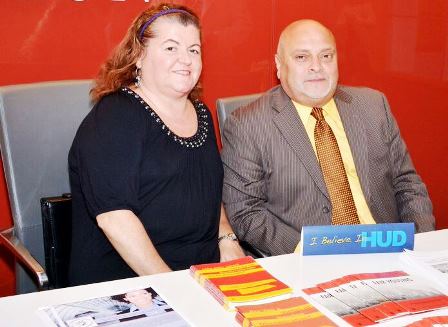 Maria Cestaro and Henry Comas, HUD Region II Senior Management Analysts


The New York State Coalition of Hispanic Chambers of Commerce, in conjunction with the chairman of the U.S. Hispanic Chamber of Commerce, Ignacio R. Veloz, and the Puerto Rican Day Parade Association hosted the first Puerto Rican Hispanic Business Summit (PRHBS), which took place on Friday June 12, 2015 at Bank of New York Mellon in lower Manhattan.
Approximately 85 small and minority-business owners, community and, women-owned firms, and members of the Hispanic Chamber of Commerce - as well as Puerto Rico's chamber presidents and business owners - participated in the first-ever Puerto Rican Hispanic Business Summit. It was arranged to help the metro area's small business owners and entrepreneurs network, grow their companies, and learn how to do business with government on all levels.
The timing of the event was significant because many small businesses in Puerto Rico are struggling with how to grow due to factors beyond their control, including the fact that many large U.S. corporations that do business on the island are reluctant to interact with smaller companies owned by Puerto Ricans, in addition to a high rate of taxation by the island government.
The New York Regional Office was a major contributor and assisted in the concept and design of the event. Panel topics included tips on creating strategic alliances and ventures and how to conduct business with the government on the city, state and federal levels.
The "How to do business with Government (City, State, & Federal)" workshop was paneled by Quenia Abreu, President, New York Women's Chamber of Commerce; Kellie LeDet, Regional Administrator for the Small Business Administration (SBA); Elizabeth Perdomo, Office of Small and Disadvantaged Business Utilization | U.S. Department of Transportation; and Mr. William A. Ramos, Director of Intergovernmental Affairs Office of the Secretary of Commerce of the United States.
Henry Comas, Senior Management Analyst, was also a panel member providing information on how to improve their access to the Section 3 Program, which promotes economic development, neighborhood revitalization, and individual self-sufficiency through job development and employment opportunities. Participants also learned about the Section 3 Business Registry which ensures that HUD-funded construction jobs and contracts are provided to local low-income residents, particularly those that live in public housing, and to businesses that substantially employs them.
"Having the opportunity to present today on the Section 3 Business Registry will foster the establishment and growth of disadvantaged businesses in the United States and Puerto Rico," said Mr. Comas, "by providing them with information to gain greater access to HUD contracts and employment opportunities via our Section 3 Program."
A HUD/Fair Housing information booth was set up to answer questions, and to provide participants with relevant fair housing literature, including information on Section 3, the Fair Housing Act, and HUD's recently published LGBT guidelines.
###