ConnectHome Provides 15,000 NYCHA Households in the Bronx With Free Broadband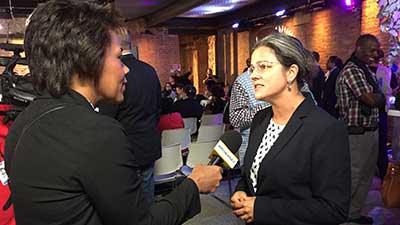 Regional Administrator Holly Leicht speaks with a BronxNet Reporter about the details of ConnectHome


The ubiquity of the internet into seemingly every facet of daily life conceals a surprising reality: nearly 1 in 4 households in the United States still lacks a high-speed internet connection. Disproportionately low-income and minority, American families that cannot access the internet are cut off from education, employment, and other vital opportunities for improving their quality of life. As surely asphalt highways and disinvestment created geographically disconnected communities among this same population, today's digital divide threatens to hamper the long-term ability of these communities to build prosperity and a brighter future.
That's why, in partnership with the White House, HUD was proud to launch ConnectHome (http://connecthome.hud.gov/) this summer, a pilot program in New York and 27 other communities across the country to ensure that public housing residents with school-aged children receive the free or low-cost broadband access that's more and more a basic necessity to compete in the modern economy. And on September 10, HUD Regional Administrator Holly Leicht was proud to reiterate this commitment at the #Yeswecode (www.yeswecode.org/) New Faces of Tech event in the Bronx, part of MSNBC's Growing Hope (www.msnbc.com/growing-hope) series. With many public housing residents in attendance, and joined by Borough President Ruben Diaz Jr. and State Assembly Member Mike Blake, RA Leicht told a cheering crowd that 15,000 public housing residents in the Bronx would receive free broadband as a result of ConnectHome.
Equally important, through an extensive network of public, nonprofit, and private partners, NYCHA residents will gain the digital literacy and skills training they need to put their free access to good use. That includes educational resources and programming from PBS and the American Library Association, training for high-school students provided by Best Buy, and SAT prep from the College Board. To learn more about this exciting program, visit connecthome.hud.gov.
###