Federal Agencies & New York City Veterans Affairs continue to fight for our veterans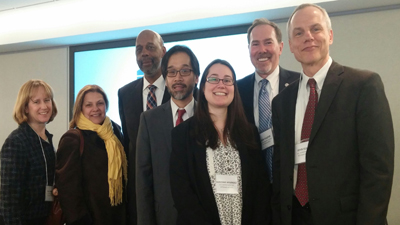 Left to right: Julie Irwin (Department of Veterans Affairs), Mirza Orriols (HUD), Sam Miller (HUD), Vincent Hom (HUD), Adrienne Melendez (Department of Veterans Affairs), Bob Pulster (USICH) and John Kuhn (Department of Veterans Affairs).


Federal partners from HUD, the Department of Veterans Affairs, and USICH joined Manhattan community leaders at an event sponsored by the Mayor's Office on Veterans Affairs to plan a sustainability strategy for the end of Veterans homelessness in New York City. Retired Brigadier General Loree Sutton, Commissioner of the Mayor's Office of Veterans Affairs and Commissioner Steven Banks of the Human Resources Administration provided remarks at the event, which was hosted by Bank of America.
Agency leaders from across the City created action plans to maintain an effective system to ensure Veterans homelessness in NYC is rare, brief, and non-recurring. Workgroups discussed a range of issues including permanent housing and housing retention strategies, homelessness prevention, landlord recruitment, and system planning.
###