HUD and DOJ Announce Youth Reentry Program in Syracuse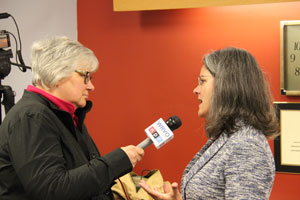 Regional Administrator Leicht speaks with NPR reporter Ellen Abbott about the Juvenile Reentry Assistance Program.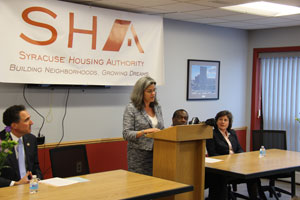 Regional Administrator Holly Leicht announces the Juvenile Reentry Assistance Program during National Reentry Week at the Syracuse Housing Authority.


A young person who has committed a minor or nonviolent crime would never be sentenced to life in prison. Yet for many, the consequences of a conviction last a lifetime. Having a juvenile or a criminal record can severely limit a person's ability to seek higher education, find good employment and secure affordable housing. That's why HUD Regional Administrator Holly Leicht and US Attorney Richard Hartunian traveled to Syracuse on April 26, 2016 to announce the Juvenile Reentry Assistance Program (JRAP). Awarded to only 18 housing authorities and legal service organizations nationwide, JRAP helps young people alleviate collateral consequences associated with a juvenile or criminal record by:
Expunging, sealing, and/or correcting juvenile or adult records, as permitted by state law;
Assisting targeted youth in mitigating/preventing collateral consequences such as reinstating revoked or suspended drivers' licenses;
Counseling regarding legal rights and obligations in searching for employment;
Providing guidance for readmission to school; and
Creating or modifying child support orders and other family law services.
There are nearly 55,000 individuals under age 21 in juvenile justice facilities, and approximately 185,000 young adults aged 18 to 24 in state and federal prisons. In Onondaga County where the grant was announced, over 3,200 juvenile arrests were made between 2010 and 2014 - nearly 90% of them for nonviolent or minor offenses. Through the Federal Interagency Reentry Council, the Obama Administration is taking steps to ensure those exiting the justice system become productive, law-abiding citizens rather than being hampered by their juvenile records for the rest of their lives.
Beyond the numbers and the new funding, it was two real-life examples that showed how powerful targeted intervention can be. Two former clients of the Center for Community Alternatives, the legal services provider and co-applicant with the Syracuse Housing Authority for JRAP, shared their stories for the assembled press, staff, and government officials. By receiving services like those to be offered under JRAP, these young men had transformed their lives: regaining visitation rights to spend time with children, completing a college education, and finding decent, stable jobs.
The coincides with both Fair Housing Month celebrated each April and with National Reentry Week. It follows HUD's recently released guidance on how Fair Housing Act standards apply to the use of criminal records by providers of housing, and recent guidance for Public Housing Authorities and owners of federally assisted housing on excluding the use of arrest records in housing decisions. In addition to Syracuse, the housing authorities in Albany and New York City also received JRAP funding. New York was the only state nationwide to receive three JRAP grants.
See more pictures (https://www.flickr.com/photos/city_of_syracuse/sets/72157667630293655) of the event announcing the Syracuse JRAP program, or watch a video (https://www.youtube.com/watch?v=2QHHb4vLWjU) of the full announcement.
###