Buyers and Renters Learn How to Access HUD Services at Homeownership Month Resource Table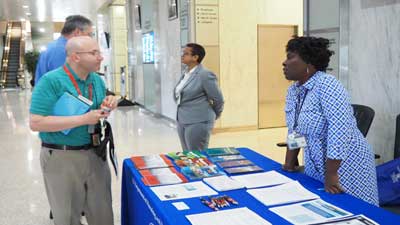 Belkys Colon, HUD Equal Opportunity Assistant and Earleene Sealy, HUD Senior Management Analyst provide resources for future homeowners and renters.


In celebration of National Homeownership Month, Earleene Sealy, HUD Senior Management Analyst and Belkys Colon, HUD Equal Opportunity Assistant provided guidance on home purchasing and housing counseling resources to dozens of federal employees and visitors at the Jacob K. Javits Federal Building in lower Manhattan.
Visitors to the HUD table were eager to learn not only about the home buying process - many asked questions about how to find affordable housing. HUD staff provided one-on-one guidance as well as handed out booklets and pamphlets in different languages on fair housing, affordable housing, and a wide range of home buying topics.
Every June, the U.S. Department of Housing and Urban Development celebrates Homeownership Month to highlight the benefits own owning your home. Homeownership makes it easier to build community networks and support systems; it gives owners the freedom to create the living environment of their dreams, enjoy better health outcomes, and has the potential of building wealth over time.
If you are thinking of purchasing your own home, HUD approved housing counseling agencies provide guidance on how to prepare for homeownership, assist with navigating the complex buying process, and provide guidance that protects potential buyers from discrimination and mortgage fraud. To contact a HUD Housing Counseling agency near you, visit HUD's website.
###