Preserving Workforce Housing in the Bronx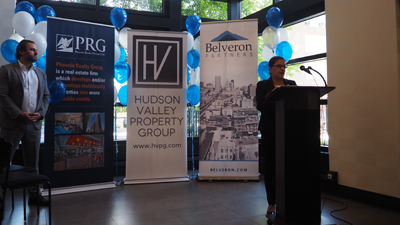 Deputy Regional Administrator Mirza Orriols makes remarks at the Keith Plaza and Kelly Towers Ribbon Cutting in the Bronx.


Deputy Regional Administrator Mirza Orriols joined local housing officials from the New York City Department of Housing Preservation and Development (www.nyc.gov/housing) and the New York City Housing Development Corporation (www.nychdc.com/) to celebrate the preservation of over 600 units of workforce housing at Keith Plaza and Kelly Towers in the Bronx. The two developments were originally constructed in the 1970s under New York City's Mitchell-Lama program. Keith Plaza was refinanced using HUD's Rental Assistance Demonstration (RAD) program, which has helped preserve over 25,000 multifamily units nationwide, and leveraged $4 billion of investment into HUD's public housing. Nearly 10,000 of the preserved units are located in New York State, showing that the State's housing professionals are at the leading edge of affordable housing finance. RAD helps properties in legacy programs like Mitchell-Lama to secure long-term rental subsidy contracts with HUD, which provides the stability necessary for private investors to finance capital improvements. At Keith Plaza and Kelly Towers, the Hudson Valley Property Group, Belveron Partners, and the Phoenix Realty Group were the private side of the of public/private partnership equation that made the project possible.
DRA Orriols thanked all of the partners assembled, including New York City Councilman Ritchie Torres. She took special note of the local residents, whose participation and faith in the project guided it from start to finish. Thanks to their hard work, and their unwavering commitment to their neighborhood and community, a new generation of New Yorkers will have access to the quality housing they deserve. To learn more about HUD's Rental Assistance Demonstration, visit hud.gov/rad.
###