HUD, ADVOCATES, STATE AND LOCAL OFFICIALS COME TOGETHER TO HIGHLIGHT HUD-VASH AWARD AND DECREASED VETERAN HOMELESSNESS ON LONG ISLAND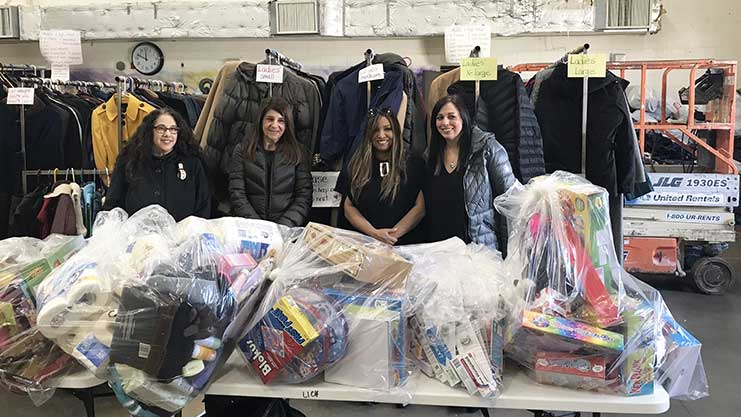 RA Patton poses with volunteers in The Boutique, where Long Island Coalition for the Homeless donates clothing and household items to area homeless that are invited to "shop" and take what they need. LICH Executive Director Greta Guarton (right) hosted HUD for the announcement.


HUD Region II Regional Administrator Lynne Patton travelled to Amityville, New York to announce 25 HUD-VASH housing vouchers for Long Island. The event was hosted by the Long Island Coalition for the Homeless and attracted advocates and local officials, as well as members of the media.
HUD-VASH housing vouchers, that come with services from the VA, assist homeless veterans by providing housing vouchers that allow them to live independently in housing of their choice. Veterans pay 30% of their income in rent and HUD pays the remaining 70%. They are also entitled to receive medical services from the VA. Long Island veterans should apply for HUD-VASH vouchers at the Northport VA Medical Center.
David Leon, a formerly homeless veteran and recipient of a HUD-VASH voucher spoke at the event, highlighting how his life changed after being able to live in a stable home and have the support of the Northport VA Medical Center. Mr. Leon was assisted by Concern for Independent Living, a local affordable housing developer that provided his apartment.
Attendees and speakers included: Babylon Councilman Terence McSweeney; Babylon Town Clerk Gerry Compitello; NYS Assemblywoman Kimberly Jean-Pierre; HUD Regional Administrator Lynne Patton; formerly homeless veteran David Leon; Community Development Corporation of Long Island's Connie Bruno; Concern for Independent Living Executive Director Ralph Fasano; Babylon Town Supervisor Rich Schaffer; NY State Homes and Community Renewal HCV Director Joseph Abate; HCV Deputy Director, Statewide Kaii Torrence; HCV D/Director Operations Scott Karvelis; and NYS HCR State Rep Sylvia Mercado.
###