Homebuyer Benefits from Program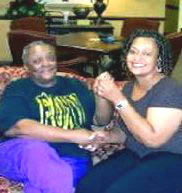 Bennie White (left) waits anxiously to close on her first home with her realtor, Sherilyn Conger.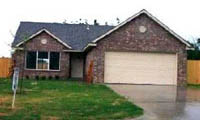 Bennie White's new home.

Bennie White is very proud of her new wood floors. She is also proud to be the first person in Oklahoma City to achieve homeownership through an innovative new program.

Until now, families that resided in Oklahoma City public housing, but were not receiving Section 8 Housing Choice Vouchers, were not eligible for homeownership assistance. But now, residents in the public housing program like Ms. White can also experience the pride of ownership.

Ms. White, 66, is the custodian of her two grandchildren, Elijah and Sandy. She wanted to buy a home, but she also wanted to remain in the JFK neighborhood to be close to her family doctor and avoid uprooting her grandchildren.

One of the 12 new homes that the Urban League of Greater Oklahoma City was building in the JFK area met Ms. White's needs perfectly. In fact, her new house is so close to her previous public housing unit, she could see the construction in progress!

Roger Acebo, a Housing Specialist with the Urban League, emphasized the need for more affordable, quality single-family development in the JFK area. The new homes are being funded with HUD?s HOME Investment Partnership Program.