Roll Model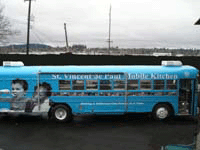 The mobile kitchen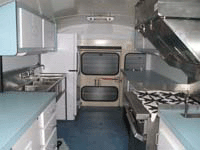 Interior view of the bus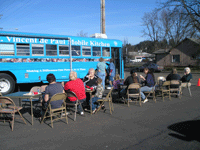 Customers enjoying a meal


The St. Vincent de Paul Society of Portland is putting a brand new spin on the notion of "meals on wheels." A couple of years ago, the Society's Vincent's Café lost its lease and had to close its doors at the corner of Southeast 28th and Powell in Portland.
But in February, Vincent's was back in business, this time aboard an old school bus rolling down the road to serve free, warm, nutritious and home - no, make that bus - cooked meals to the homeless in Estacada, Sandy, Welches, Molalla, Canby and Oregon City.
This year, HUD has awarded almost $20.2 million - up more than 35 percent from 2007 - in grants to more than 80 local governments and non-profit organizations to offer homeless individuals and families a wide range of housing and support services.
But Vincent's is going it alone, depending not on public, but private contributions. Indeed, thanks to $35,000 in renovations funded by private donations, it's a fully-equipped "meal mobile," with a six-burner stove, full refrigerator, three sinks, a freezer and with enough room to seat, in air conditioned comfort, up to 18 people at picnic tables and padded benches.
"You can tell people about it," the Society's Jacque Grieve told The Catholic Sentinel, "but until they walk on it, they cannot believe there is a fully functional commercial kitchen in the back of that thing."
It's fully licensed by the Multnomah County Department of Health and, at each stop, Vincent's Café gets free parking and volunteer help from Outside In, Clackamas Service Center, Foot Hills Community Church, Spring Water Home Safe, Sandy Community Action, the Family Youth Center and the American Red Cross.
"Most of Oregon's cities and towns," reports The Sentinel, "have a place for homeless families and individuals to receive a daily meal. But homeless people in rural areas find that food and daily meals are not available." Thanks to Vincent's Café, that's changing in the rural communities around Oregon's Mt. Hood.