Micro-Nomics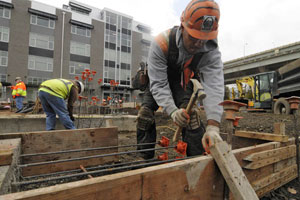 Work on the Freedom Center's micro-apartments


PORTLAND - Thinking small may have become the new way to think big. At least in Portland, Oregon. Visit the Pearl District just north of Burnside and downtown and south of the Willamette River. Late into the 20th century it was home to breweries, warehouses and rail yards, a place most folks avoided unless they worked there. Not anymore.
For at least a decade, the Pearl's been Portland's hottest neighborhood, a place a lot of people want to live, especially the young and single. Good restaurants. A mix of national chains and boutique shops. Plenty of nightlife. Which, of course, means it's pricey, tough, maybe impossible for most on fixed incomes. And those who can afford it? They pay a premium.
The solution? Smaller apartments. Apartments like those at Freedom Center, a three-building, 150-unit rental complex - two are already completed - which offers some of the nation's very first "micro-apartments." 300 or so square-foot units that, architect Steven Foster told Nathalie Weinstein of The Daily Journal of Commerce, "a place to cook, sleep and shower and then be on the run."
Freedom Center doesn't receive any government subsidies, but does have a mortgage insured by the Federal Housing Administration, a part of HUD. Since FHA's multifamily insurance fund is backed entirely by the premiums borrowers pay, taxpayers aren't on the hook. And rents are set by what the market will bear. Right now, that's about $850 a month, a good price in the Pearl.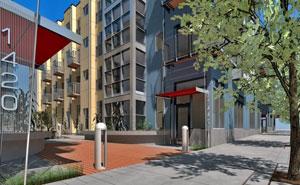 Freedom Center


Freedom Center's gotten mixed reviews from renters. "That's insane," Kristine Collins, a "shopgirl," told The Journal, noting that she has a recently-renovated, 550 square-foot studio in another part of town for $1,000 a month. "I like the idea of a smaller space," she said, "but $800 for 300 square-feet is too much."
But Freedom Center's "living lightly and leaving a smaller footprint" ethic appeals to others. Its first building opened in September, says Eliot Njus of The Oregonian, and already is 80 percent occupied. "You really could live here forever," Paula Norman, a resident, told him. "It shows how little you can get and still be functional."
Mark Madden, the project's developer, added that it's the wave of the future. "The demand" for micro-apartments, he explained, "doesn't seem to be waning at all."
And it's catching on across the country. A Seattle developer, Njus reports, has opened "several new buildings" of "aPodments." The San Francisco Board of Supervisors is considering changes in its building code to allow micro-apartments. And New York Mayor Michael Bloomberg has invited developers to submit proposals to build a building with units, observes Paul Allen of Reuters, "about four times the size of a typical prison cell" on a city-owned parcel in Manhattan to meet the need for a "scalable housing model that is safe, affordable and innovative."
Small, many people believe, is beautiful. But when is small too small? And are micro-apartments big enough? Only time - and, of course, the market - will tell.
###