Penny Wise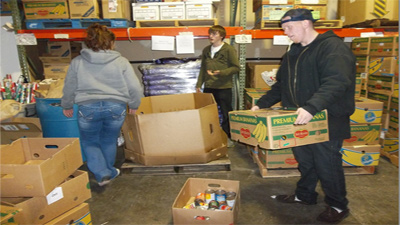 Food bank volunteers working in the warehouse.


GRANTS PASS - Food banks are among the most cost-conscious organizations you're likely to find. It runs deep through their organizations' DNA.
No wonder. The customer they serve show up because they're struggling, often unsuccessfully, to make ends meet and to serve their families healthy, nutritious and regular meals. Food banks keep a sharp eye on overhead costs. Every penny saved there is a penny that helps put good food on their families' kitchen tables.
One thing food banks don't gloat about is being in a growth industry. No surprise there, either. Growth means demand is rising. Rising demand means more families aren't getting by. Not getting by means more people - many of them children - are going hungry.
To be sure the demand is rising. In Grants Pass, for example, a city of 35,000 and the seat of Josephine County about 250 miles of Portland on the banks of the Rogue River, one of America's most gorgeous and, as it rushes through the Coastal Range to meet the Pacific, also one of its wildest.
Founded in the 1860's, Grants Pass may be the epicenter of Oregon's timber industry, an industry that's had more than its share of economic ups and down, prosperity and poverty. The County is one of only five counties in the state with more than 20 percent of its residents at or below the poverty line.
Which means the nonprofit Josephine County Food Bank may be doing more business today than at any time in its 26-year history. Ten years ago, it reports, it was helping about 6,000 families each month. Today it's helping 12,000. Back then it distributed 1.4 million pounds of food a year. This year, it will distribute nearly 2.5 million. Pinching pennies is a priority.
So when in 2011 it finally decided it was time to expand its administrative and distribution facility and its produce garden, the Food Bank was looking for a fancy or a pricey address. All it wanted was a place available and affordable. Thanks to a decision by the City of Grants Pass some six years earlier to acquire a 250-acre former hops farm 1.5 miles beyond the city limits, the Food Bank didn't have to look too long or hard.
Admittedly, the City's decision sparked controversy. Some wanted the land for home sites. Others raised concerns about both the soil and the groundwater were contaminated. A grant awarded by the U.S. Environmental Protection Agency to Business Oregon - a state agency charged with fostering public-private partnerships to leverage "leveraged funding and support of economic opportunities for Oregon companies and entrepreneurs" - cleaned-up the site. Indeed, earlier this year the remediation was honored with a 2016 Oregon Brownfields Award for an "innovative, yet practical, remediation" stimulating economic development by addressing "a critical community development need."
The Josephine County Food Bank was one of the River Road Reserve's s very first tenants, celebrating completion of its new facility - funded in part by a $1.5 million Oregon Community Development Block Grant awarded from Business Oregon and $400,000 in local contributions - in March, 2015.
Today its garden grows 50,000 pounds a produce a year. It's partnering with the YMCA and the Boys & Girls Club to bring kids out to the site to learn about eating healthy. And its new, 13,000 square-foot distribution facility, says the Food Bank, allows it "to better meet the needs of our community for many years to come as well as integrate the operations of the warehouse and the garden into one central location."
That's the spirit. Because you sort of hope the Food Bank will never have to expand again, that the demand will stabilize then shrink, maybe all the way to zero. A pipe dream, even in this, the world's richest, most agriculturally-productive society? Maybe. But if all the good work done and the big dreams accomplished by the volunteers, supporters and staff of the Josephine County Food Bank you know there's a way to do it. All it takes from the rest of us is the will to get it done.
###