Mount Joy, PA Makes Affordable Housing Work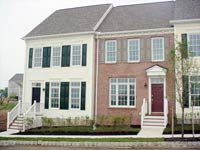 The Florin Hills development combines affordable and market rate housing in innovative ways.
The affordable housing problems experienced in Mount Joy, a bedroom community of Harrisburg, are very similar to those experienced by many other suburban communities. Zoning restrictions and building specifications prompted a dramatic rise in land and home prices, prohibiting builders from making profits on affordable housing. Recognizing the problem in 2004, municipal officers held a public workshop bringing residents and the development community to the table. The workshop was very successful and participants developed a consensus on a comprehensive development plan for Mount Joy permitting greater density on the available sites.
The first product of the plan is a mixed-use development called Florin Hills. Seventy-five of the 450 new units will be affordable, 18 more than the 57 affordable units that the old zoning rules would have allowed. Both Governor Edward Rendell and the Housing Alliance of Pennsylvania recognized Mount Joy's achievement as a model for meeting the affordable housing needs in the Commonwealth of Pennsylvania.
Specific Actions Taken
Hosted a two-night public workshop that brought together all parties resulting in a comprehensive plan offering incentives to both developers and the Borough of Mount Joy. Due to the inclusive nature of this workshop, the resulting plan had no opposition upon its implementation.
The Borough amended, waived, or otherwise revised 52 development and zoning regulations that were barriers to the development of affordable housing units.
Mount Joy provided a Workforce Housing Density Bonus that created a powerful incentive for builders to build one additional home per acre if at least 10 percent of new homes are affordable.
Borough planners approved Florin Hills, a new mixed-use development characterized by affordable and market rate housing, access to public transit, and high-density housing. Changes in density requirements and zoning laws allowed this to go from a 57-unit development to one with more than 450 units.
National Recognition
As a result of their successful efforts, The Department of Housing and Urban Development recently presented Mount Joy Borough with it's Robert L. Woodson, Jr. Award for reducing burdensome regulations that unnecessarily inflate the cost of housing. HUD Secretary Alphonso Jackson recognized Mount Joy as one of four national models in the effort to reduce unnecessary, outdated, and duplicative regulations that put the cost of housing out of reach for police officers, firefighters, teachers, returning veterans, and many other hardworking Americans.
"When hard working families can't afford to live in their own communities because of man-made regulations, it's time for some honest soul searching," said Jackson. "These communities are working overtime to remove excessive and burdensome regulations that have long outlived their usefulness and, in the process, they're putting out the welcome mat for the very people anyone would be proud to call 'neighbor.'"
The Robert L. Woodson, Jr. Award is named in memory of HUD's late chief of staff and is designed to recognize state and local governments who aggressively work to reduce regulatory barriers to affordable housing.
"On behalf of Mount Joy Borough we want to thank HUD for this honor," said Terry Kaufman, Mount Joy Borough Manager. "This award truly reflects on many people in this community, especially our Borough Council who were determined to see that there were housing choices for all persons. In addition, a special thank you, to our partners at Charter Homes and Charlan Group who stayed at the table to achieve this goal!"
America's Affordable Community Initiative
Regulatory barriers to affordable housing are public regulatory requirements, payments or processes that significantly impede the development and availability of affordable housing without providing a commensurate health and/or safety benefit. These barriers can impede housing rehabilitation, limit supply and raise the cost of new development by up to 35 percent. As a result, millions of Americans are priced out of buying or renting the kind of housing they otherwise could afford.
In 2003, HUD made barrier reduction one of the Department's top priorities and created America's Affordable Community Initiative. HUD continues to review its own regulations to identify those that effectively discourage the production of affordable housing. Meanwhile, HUD is aggressively working with state and local leaders to create more affordable housing-friendly environments around the country. For more information about this important effort, visit archives.hud.gov/initiatives/affordablecommunities/index.cfm.
Content Archived: February 28, 2011